Every destination faces social issues of some sort, but some issues are more prevalent than others due to location or region. For Yuma, Arizona, human trafficking is that issue. Human trafficking is not confined to Arizona, or even the U.S. — it is a global issue, with an estimated 27.6 million people being trafficked globally at any given time according to the US Department of State.
I recently spoke with Marcus Carney, executive director of Visit Yuma, about the work that the destination marketing organization (DMO) is starting to embark on to address this problem locally. The process doesn't have a checklist and requires long-term commitment. In general, the main steps to move forward include recognition, education, and developing partnerships.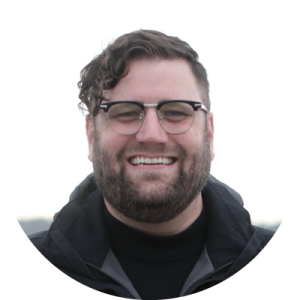 Marcus Carney
Executive Director 
Visit Yuma
Recognition
Yuma is located in southwest Arizona and borders California as well as Mexico — which is less than 10 miles from downtown Yuma. Rather than getting caught up in the politics surrounding how the border should be handled, the city of Yuma recognized there was an issue and took action by working with Yuma Police to develop a narcotics and human trafficking task force. "Creating the task force was the conversation starter for the city," said Carney. 
Education
There are many organizations around the world focused on combating the sexual and labor-related human trafficking issue; in Arizona, the Arizona Anti-Trafficking Network (AATN) has developed a program called Safeguarding All From Exploitation (SAFE) which focuses on equipping the tourism industry with knowledge and skills about human trafficking in Arizona. In addition, Cities Empowered Against Sexual Exploitation (CEASE) works to educate, prevent, and disrupt sexual exploitation activities.  
"Besides starting the task force, the city of Yuma introduced CEASE training to city employees," continues Carney.
The Arizona Lodging and Tourism Association also got involved in this effort by offering the SAFE program, which is geared toward the tourism industry. Visit Yuma worked to support this effort by bringing the program to Yuma this past June, which resulted in 25 people from 10 different businesses completing training, with more planned for later this year. Carney pointed out that many large hotel chains have corporate training programs as well: "These programs are fantastic and I hope they will also incorporate local training since it is important to get educated on local trends and happenings." 
Carney also worked on educating staff and partners on human trafficking while working in Tacoma, Washington. They created tools like a message board in their customer portal to help local businesses communicate the activity they saw so that other partners were aware of the situation. 
It's important to get people trained so they understand the issue and recognize the various signs associated with human trafficking, but recognizing the issue is not enough. What should a front desk staff member do if they see someone who they believe is being trafficked?
Developing Partnerships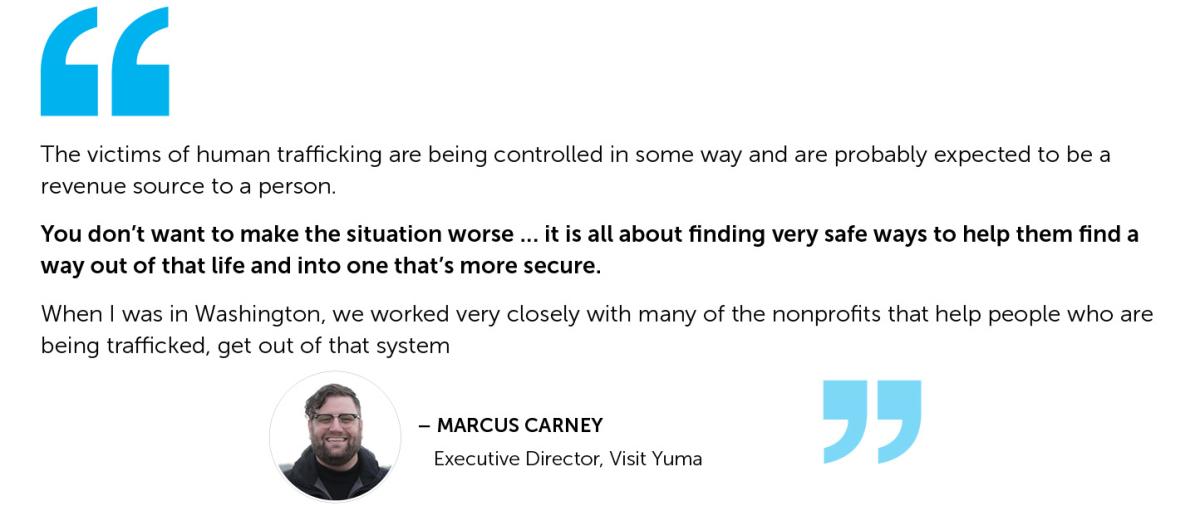 It's not just about working with non-profit organizations but also involving the police. "It is all about trust. The last thing a business wants is for the police to show up with lights on and sirens blaring — it's not good for the business or the potential victim of trafficking. The community needs to develop a relationship with the police and trust that if they reach out with a potential trafficking situation, it will be handled properly and in a manner that does not endanger the victim." 
Carney is working to use all of his past experiences to help bring these practices to Yuma. It takes time, effort, and collaboration but Yuma's efforts are well underway. The hardest part is getting started.  
What can you do to get help address this issue, or any social issue that your destination faces?  
Research what local, state, and national organizations work to address the issue and identify training programs available
Start the discussion and build trust with local government, non-profits, police, businesses, and residents to understand what knowledge exists about the issue and what work has already been started
Identify what organizations can provide assistance — who are the contacts, when can they be called, and what help do they provide
Educate the community to learn about the issue and how they can be a part of the solution
If you are a Simpleview customer, you can utilize the customer portal as a tool to help communicate with your partners and keep them engaged in the latest trainings and meetings you are holding.
LEARN MORE