Email marketing can be quite a daunting task, as is ensuring that the emails you send are going to be effective on mobile devices. There's nothing more frustrating than building out an email only to find it's not optimized for mobile friendly viewing. As of 2021, email statistics reveal that there are approximately 3.9 billion unique mobile internet users worldwide — which is around 51% of the global population. Mobile is now becoming the standard vehicle for email and is projected to expand to 4.4 billion users by 2023.
 
With that being said, it's important to note that some 80% of consumers say they will delete an email if it doesn't look good on their mobile device, which is why the Simpleview team gathered some of the most mobile email gaffes that are easy to fix to share with our readers.
5 ways to ensure success for your marketing campaign
 
 Can you see that? It's important to keep in mind that smartphone screens max out at around 5.5 inches, give or take. You want to ensure buttons are large enough so that the reader can easily tap them with their thumbs. Also note that text is often way too small — ideally, copy text should be set at 15-18px and headers should be no smaller than 22px.
 
What happened to the image? Sizing images for use before uploading it to the image library will save you time in having to go back and resize. If you're concerned with losing the image quality, there are apps such as Squoosh that serve as free tools to optimize the image after resizing. Using a clean, single-column layout with vertical orientation should always be something to keep top of mind when building out your email to help avoid this problem.

Act-On Tip: With Act-On, if you are using the platform and staying away from HTML code, you don't need to worry about this step unless your images are too large.
 
 Why is it taking so long to load? Statistics show that 40% of readers abandon a website if it doesn't load in 3 seconds. Emails should have a similar grace period for loading. Assuming most people have an attention span of a goldfish, you want to make sure you are considering this when planning interactive elements to ensure your contact/customer doesn't abandon them before they open. Keep images and content conservative and to the point. 
 
 Am I missing something? Although images are nice, oftentimes too much of a good thing can be bad — they take too long or fail to load at all and the customer never sees the content. Keep in mind that AOL mail, Android, Microsoft Outlook, and many others across the board are compounding the problem by blocking images by default. For example, Google's Gmail website automatically blocks images until it's sure the email is coming from a trusted source. In addition to that, let's consider the visually-impaired subscriber and those that speak another language. They usually use a screen reader to translate your email. If your message is hidden in an image, they won't be able to absorb everything that your email has to offer. With voice assistants on the rise, this is something worth noting.
 
Why isn't the link working? Test, test, test. If your content is linked to a website, you'll want to ensure the site is mobile-friendly. It's a waste of resources to make your email mobile friendly only to include a link that leads to a non-mobile page.

Act-On Tip: Act-On has a handy tool in the design tab of the builder that allows you to validate and check your links before you send 
 
​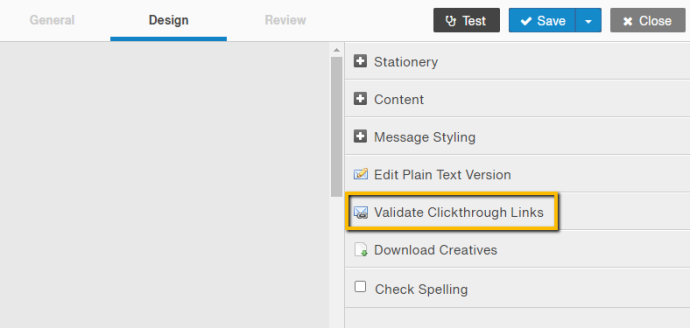 ​
These mistakes might seem obvious to us savvy geniuses, but we're all human and they are common enough for there to be numerous in-depth articles geared around mobile optimization. This may be common knowledge of email best practice for some of us, but not all, which is why we are here to share this knowledge so that you can optimize your email experience. Last but not least, don't forget that 51% of all emails are opened on mobile devices, so if mobile optimization wasn't a priority for email outreach before, isn't it high time it was?
[Unable to render content]