There's nothing quite like receiving a postcard in the mail. Sure, it's a throwback to simpler times and down-home friendliness, but running a postcard campaign was also a strategic decision for two destination marketing organizations (DMOs) who wanted to stay top-of-mind during the travel challenges caused by the global pandemic. 
2020 was a long year for everyone, but Visit Dublin Ohio and Experience Grand Rapids brought a little joy to both residents and potential visitors by offering them a way to imagine a time in the future when the expression "wish you were here" would turn into "it's great to see you again!"  
The Story of Dublin, Ohio
In a community of 46,000 known for its friendliness – where "Irish is an attitude" – perhaps it's not surprising that Visit Dublin Ohio decided to get back to the basics and invite its residents to send postcards to friends and family out of town. 
"Running this postcard campaign was a great way to engage our local audience and offer a distraction from the pandemic," said Sara Blatnik, marketing director at Visit Dublin Ohio. "It allowed us to reach visitors in an authentic and appropriate way." 
When the DMO decided to launch the campaign, using paid media wasn't an option for them. Still, it wanted to make sure that future visitors were keeping Dublin top of mind. "We wanted to find a way to lift spirits while sharing a little piece of Dublin," said Blatnik. "Knowing that visiting friends and relatives would be one of the first segments to travel, we thought using our locals to share scenes of Dublin with their friends and family would be the perfect way to get them to start thinking about a future trip to Dublin when the time was right."
Residents have the choice of four postcards to send, all of which feature a unique aspect of Dublin. There's the "Field of Corn," public art by Malcolm Cochran; the Celtic Cocktail Trail; and holidays in historic Dublin – but the most popular postcard by far is of the new Dublin Link Pedestrian Bridge, which officially opened on St. Patrick's Day, 2020, and is the longest single-span, single-tower S-shaped suspension bridge in the world. The postcards have QR codes to encourage recipients to start dreaming of their trip.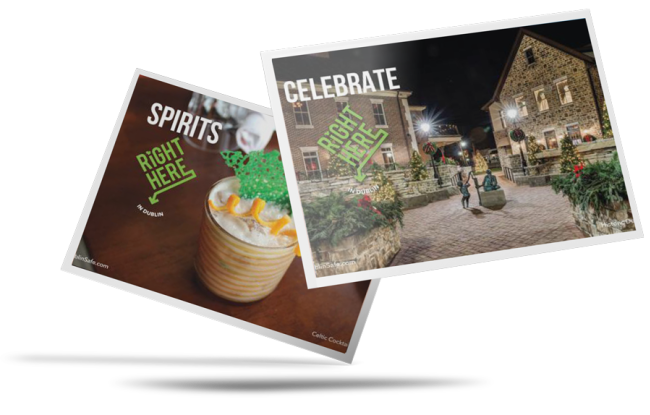 Blatnik said an additional benefit of the campaign was that it allowed the DMO to continue building relationships with locals at a time when many were working remotely. "The campaign allowed us to capture new local emails and introduce our website and other offerings to residents," she said. 
Initially, the campaign was intended to run for the last nine weeks of 2020 but proved so popular with over 700 postcards sent that it's now an ongoing, year-round way for residents to send well-wishes to their friends and family members.
The Story of Grand Rapids, Michigan
Kent County is home to more than 100 breweries, cideries, distilleries, and meaderies, and its county seat of Grand Rapids has the art, culture, food, and entertainment of a big city but the warmth of a small town. Anointed by Expedia as one of America's Super Cool Cities, Grand Rapids nonetheless saw declining travel in the summer of 2020 because of COVID-19. 
"We knew people were missing their friends and family and that there was going to be pent-up demand for travel once restrictions lifted," said Kelly Messerly, marketing content manager at Experience Grand Rapids. "We wanted to find a way to harness that desire and keep Grand Rapids and Kent County top of mind so that when travelers were ready, they would select our destination. On a human level, we just thought this was a nice way for locals to share a bit of Grand Rapids along with a friendly note to a loved one."
There are five postcard choices, each showcasing information about Grand Rapids/Kent County. Two feature cityscapes, while two feature nature – one a Lake Michigan beach scene and the other a winter snow scene. The fifth postcard highlights a local craft beer.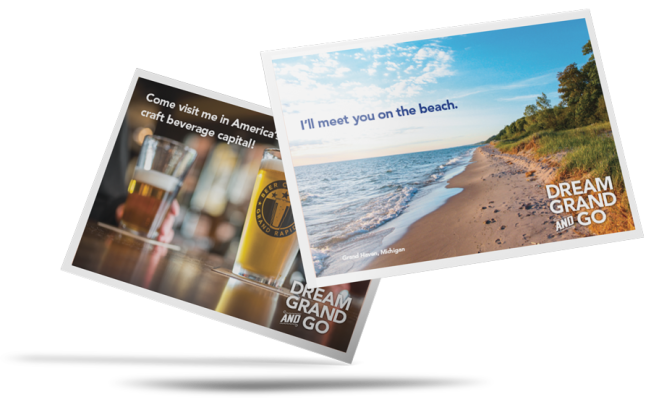 "Our most popular postcard has been a summertime scene of Lake Michigan's shoreline that invites the receiver to meet the sender "on the beach." And who wouldn't want to spend some time on the freshwater ocean that is Lake Michigan? No salt, no sharks — just sun and sand," said Messerly. "It's an invitation that resonates any time of the year!"
She said an additional benefit of the campaign has been activating residents to contribute to the travel economy and become ambassadors for the region. 
"We knew from our research that almost half of the people coming to the Grand Rapids area were coming to visit friends and family, and, as any marketer will tell you, a recommendation from a trusted person is a powerful way to influence purchase decisions," said Messerly. "By empowering our fellow Grand Rapidians to help us encourage travel to the area, visitors aren't just getting a recommendation, they are receiving a personalized, heartfelt invitation to visit and to connect when the time is right. That's a powerful message, especially when travel was so severely limited."
Experience Grand Rapids started its postcard campaign in August 2020, and it continues to run; through May 2021, 582 postcards have been sent. The DMO created QR codes connecting to the postcard landing page. Those are now available at its airport welcome center and hotel front desks to extend the local reach further.
[Unable to render content]
Was it your residents who sent most of the postcards? What kind of feedback have you gotten from them? 

We started this campaign by targeting locals, but as vaccines began to roll out, we shifted our message and creative to appeal to both locals and travelers. Even still, West Michiganders have been the largest group of senders by far. The reception we've received has been overwhelmingly positive. We review the postcards before they are sent, which we make clear on our landing page, and it's been so incredible to read the warmth, affection, and community pride expressed on the postcards. This was especially true last year when there was so much uncertainty and gloom in the world. These messages were a bright spot during a difficult time.
– Kelly Messerly, Experience Grand Rapids

Yes, residents sent the majority of postcards. Dublin residents have great pride in the city and an enhanced sense of community-mindedness. They love to share Dublin and jumped at the opportunity to send a free postcard to friends and relatives. We also received requests for more postcard options and have been printing seasonally-themed postcards that can be sent for free in our Visitor Center year-round.
– Sara Blatnik, Visit Dublin Ohio
---
Is there anything you'd like to mention that you think other DMOs would find interesting or useful? Any advice for others considering a similar campaign?

We work with a local print shop to help us with fulfillment. They house the postcards, print the messages, and send them out for us. We also use a CRM form to collect the information we send to the print shop, and we use the CRM to manage postcard inventory. I mentioned previously that we review the postcards. I recommend this as a precaution so that no one is trying to send a message you wouldn't want associated with your brand. 
Lastly, if you're going to go to the trouble to do all this, market it! We did a local media push, we shared this opportunity with our partners, and we did some targeted ads to build awareness. Although we launched this campaign in 2020, we continue to use it for locals and in-market messaging.
– Kelly Messerly, Experience Grand Rapids

Our locals prefer scenic postcards over images with people in them. It's important to have a printing process in place for individual messages. People don't want to wait months for their postcards to arrive. We used a staycation giveaway to entice locals to send a free postcard. It was a nice tie-in and promotion for locals to stay in our hotels while very few visitors were in town.
– Sara Blatnik, Visit Dublin Ohio
---
What was a favorite or surprising aspect of your postcard campaign? 

My favorite part about it was seeing how much love and pride fellow residents have for our hometown. I was happily surprised by how many new residents were sending postcards to friends and family and how excited they were to show off Grand Rapids to their loved ones.
– Kelly Messerly, Experience Grand Rapids

One surprising aspect was how much people loved old-school activities during the pandemic. It's amazing how excited people are to receive "real" mail! My favorite part about it was reading the messages being sent to friends and relatives. While people couldn't be together physically, it was great to see the kind and uplifting messages and the pride that Dublin residents have in our city.
– Sara Blatnik, Visit Dublin Ohio
---
[Unable to render content]