"All are welcome here." This is the message Visit Raleigh wants to send out far and wide with a progressive, meaningful approach to draw visitors to its destination. Whether one is traveling to seek outdoor adventure in a scenic state park, an afternoon touring historic sights and museums, or to indulge in modern Southern cuisine in the vibrant nightlife of the city — they can find it in Raleigh, N.C. The DMO has a variety of attractions for every visitors' interest, which has led them to an objective that is impactful to more than just the location itself, but to the travelers who often go unrecognized. 
The destination management organization (DMO) adopted a new goal: a commitment to making its destination fully accessible to as many visitors as possible. Accessibility is part of a larger, destination-wide commitment for equality and inclusion to expand reach and develop a more inclusive approach to travel. Dubbed All Access Wake County, the project focuses on inclusivity for those with disabilities.  
Its purpose is to:
Educate and train hospitality partners to provide effective servicing to guests with accessibility challenges
Call partners to do more than the Americans with Disabilities Act (ADA) requires
Provide genuine hospitality to those with disabilities
Make the destination accessible to all visitors, regardless of their ability level
By encouraging, educating, and providing resources for its hospitality partners from hotels, restaurants, attractions, retailers, and transportation companies on how to provide outstanding customer service to visitors with disabilities, Visit Raleigh hopes to gain a solid reputation as one of the easiest and most enjoyable destinations to visit.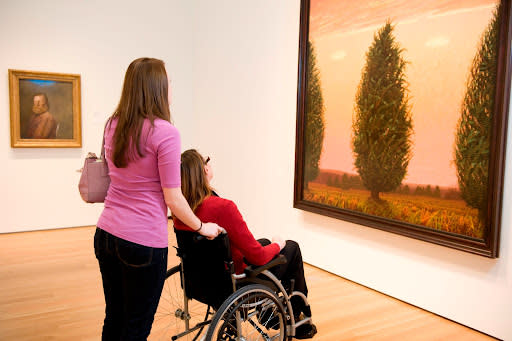 A Different Meaning of All-Inclusive Vacation 
When considering travelers with disabilities, the following key details stood out to Visit Raleigh and encouraged the DMO to push themselves to be an accessible location: 
Over 15% of the global population has some form of disability (visual, auditory, motor, or cognitive), which adds up to over one billion people worldwide 
41 million Americans live with some form of disability
Many people with disabilities want to travel but find the challenges of navigating a new destination to be so daunting that they get discouraged and choose not to go
The DMO recognized a responsibility to help its hospitality partners be fully accessible to a variety of guests, which would limit feelings of  discouragement in travelers with disabilities. With Raleigh being known for its historic downtown, with many of it's attractions built before the 1900s, it is common for the older buildings not to have any accessible attributes. Visit Raleigh knew they needed to create a safe, comfortable, and welcoming environment for all visitors.
---
"The hospitality industry here in Raleigh, N.C., lives by the motto 'All Are Welcome Here' and we want those with all types of disabilities to know that includes them," said
- Dennis Edwards, president and CEO of the Greater Raleigh Convention and Visitors Bureau.
"As noted in the All Access Wake County purposes, we're calling on all of our hospitality partners to make accessibility a priority and do more than what the ADA requires," said Vimal Vyas, director of information, security and digital innovation at Visit Raleigh. "Some of our partners have done a wonderful job of increasing awareness and implementing programs to provide services to visitors with disabilities."
- Vimal Vyas, Director of Information, Security and Digital Innovation at Visit Raleigh. 
---
[Unable to render content]
Visit Raleigh also tapped Simpleview, its CRM and CMS provider, to see what digital tools would aid its cause. It has since implemented the AudioEye certification and toolbar for the DMO's website, which guides people who are visually impaired through the official tourism website by providing an optimal, customizable, and fully inclusive digital experience.
Visit Raleigh also utilizes Threshold 360 virtual tour software. It enables the DMO to post website videos showing the easiest, most accessible routes from hotels to the visitor center, including which walkways to take and how to navigate the parking garage. The website also provides information about Accessible Raleigh, N.C.: Things to Do for Visitors With Disabilities, so travelers can plan their stay around must-see, easily accessible attractions before booking.
Visit Raleigh has made it clear: no matter what type of traveler you may be, you are welcome in Raleigh, N.C. — a destination that is putting inclusivity back on the map. 
[Unable to render content]