In a recent product release, Act-On announced that their all-new Automated Journey Builder would "deliver a more interactive, dynamic, and flexible design experience while expanding a marketer's ability to engage across channels, touch points, and outcomes." If you're a visual thinker like me, the Automated Journey Builder is going to take your email automations to a whole new level! 
What is an automated program?
To understand the impact of this new feature, we first need to be on the same page as to what we're talking about! An Automated Program (or Automated Journey Builder) is the use of predefined rules to trigger email messages or other actions to personalize your messages based on specific actions that your subscribers make. 
So how does that work into the ways DMOs might use an automated program? One of the most popular examples is the Welcome Program. Someone goes to your website > signs up for your newsletter > they are entered into a program containing a series of emails telling them not just about the destination, but what to expect from the newsletter.
Another popular one is a Sales Drip Campaign. You take your list of clients > send them a series of emails about meeting in your destination > however, as each email sends the client list gets smaller and smaller. Why does that happen? You use a combination of lead scoring (assigning a score to sales leads based on profile attributes or actions they do or don't take with your marketing program - this will show their interest level), email engagement levels (are they opening and clicking on things), specific pages visited on your meetings website, etc. You do this, not just because you are a very smart email marketer, but because it is a way to end up with your most interested and engaged clients.
How does this new feature improve the process? 
I'll be honest, at times the old way to create automated programs in Act-On left me confused and almost crossing my fingers the logic would work. I would spend extra time going over and over the flow to make sure every step would work and lead to the next one as I expected. This was due to each step being stacked on top of one another. I couldn't see how the individual automations would work together, progressing to the next one, accomplishing the goal of the program.
Conversely, I am able to quickly create automated programs with the new Automated Journey Builder due to the easy-to-follow 'yes/no' branching structure. I don't have to take extra time trying to figure out if my automation will work, I can visually see the structure and know right away it will.
---
"Act-on's new Automated Journey Builder is far more intuitive and user-friendly than the classic editor. The redesigned program flow makes it much easier to build a complex communication plan to keep contacts engaged, and I'm already mapping out additional programs to set up through this."  - Cory Capps, Website Manager -Visit Wichita 
---
What are you waiting for?
Check this new Automated Journey Builder out, it has already been added to your Act-On automation module. To use it, when you are creating a new automation; click on the middle image with the branch logic pictured, versus the bottom image that shows the linear logic.  

As a bonus, that had me doing the happy dance, you have the ability to copy/duplicate steps; saving you valuable time. You can also quickly add new steps by clicking on the plus sign right in your flow versus having to drag and drop it over from the side menu.
Additionally, all current automations were converted to the new Automated Journey Builder in addition to the legacy versions. To see this, hover over a current automation and click on the first image with 'new' on it showing the branch logic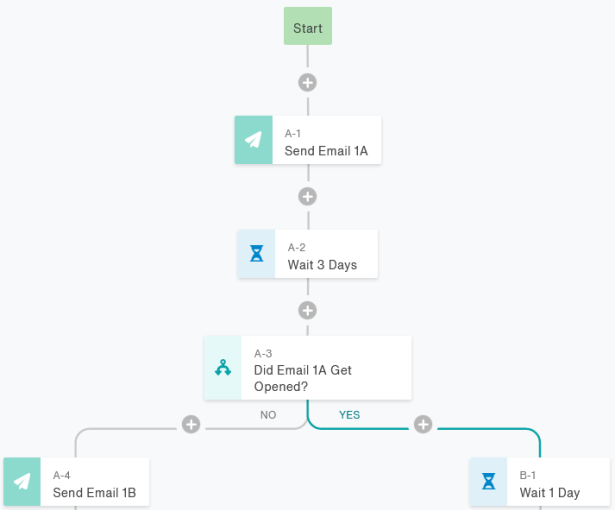 Feeling a little overwhelmed or intimidated when creating automated programs in the past is understandable. I urge you to try the new Automated Journey Builder - it was definitely a game changer for me!