Simpleview's Destination Travel Network (DTN) works with destination marketers and their stakeholders to create new membership/partnership value through various digital marketing opportunities. Engaged communities with a strong digital presence strengthen the destination's digital footprint. DTN has launched a new initiative that will make it easy for your destination marketing organization (DMO) to be a part of the solution for local partners.  
Digital Marketing for Small and Midsize Businesses
Businesses in your destination with small digital marketing budgets are facing countless challenges. Many of your partners don't have the knowledge or time to effectively market their business online, and some don't even have websites. 
If your partners are NOT effectively communicating with their customers:
They are missing out on business opportunities
They are not connecting with customers in the way customers want to connect
Customers can't get to the information they need
They are not managing reviews
They are not creating advocates
Our team is here to work with your partners on:
Website design and build
Social media management
Listing syndication
Reputation management
SEO
Pay-per-click advertising 
Blog writing
At DTN, we are committed to providing destination marketers the ability to bring this new value proposition to their partners by empowering community members with the knowledge, guidance, and support around the same marketing technology that your DMO already uses every day to attract visitors.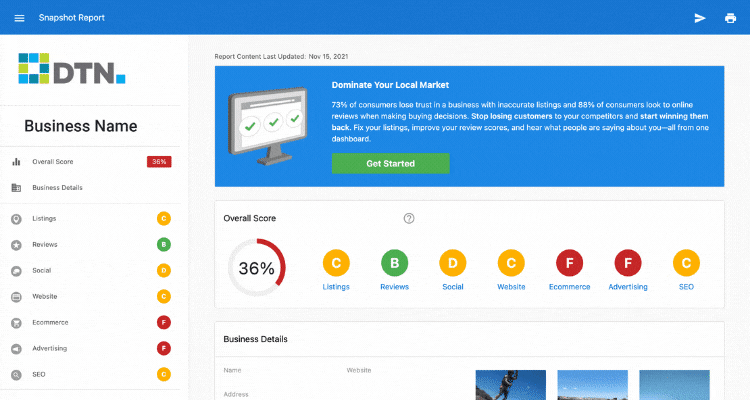 DTN has invested in the technology and teams to offer cost-effective, centralized digital marketing solutions to your partners, on your behalf. Through direct outreach, DTN will connect with each one of your partners to share the opportunity but, most importantly, to educate them on why investing in digital marketing is such a crucial part of running a business today. As part of this new opportunity, for every partner who purchases digital marketing products and services, DTN will send you revenue every year that partner remains active on the DTN platform. With little effort from your staff, DTN will expand your partner value proposition and also create a new revenue channel for your DMO. 
 The most progressive and forward-thinking destinations are highly engaged in their communities. By helping your partners solve their marketing challenges, you're bringing new value to your communities and are helping your partners where they need it most.
DTN digital programs are versatile and easily customizable to meet your specific marketing and budget goals. We connect directly with your tourism partners to advocate for your DMO and educate your partners on the enhanced exposure opportunities.
Learn More About How DTN Can Become an Extension of Your Team