The team at Tourism Nova Scotia values the importance of managing its digital assets.  They have been utilizing the Simpleview Digital Asset Management (DAM) since 2012 and have been constantly updating their library throughout the years ensuring fresh content is available to their staff, agency, and partners.
The Simpleview DAM is ideal for internal file organization, external media distribution, collaboration, and archiving. The solution ensures that DMOs don't have to spend hours looking for missing files, sifting through duplicate or improperly named content, or trying to control access and usage rights.
Tourism Nova Scotia required a platform that would allow it to quickly search through thousands of images and numerous videos. Recognizing that updated imagery is critical to the success of the destination's brand, the DMO provides all industry partners access to its database to ensure the frequent influx of current images. This allows the DMO and industry partners to constantly update new assets and build their libraries.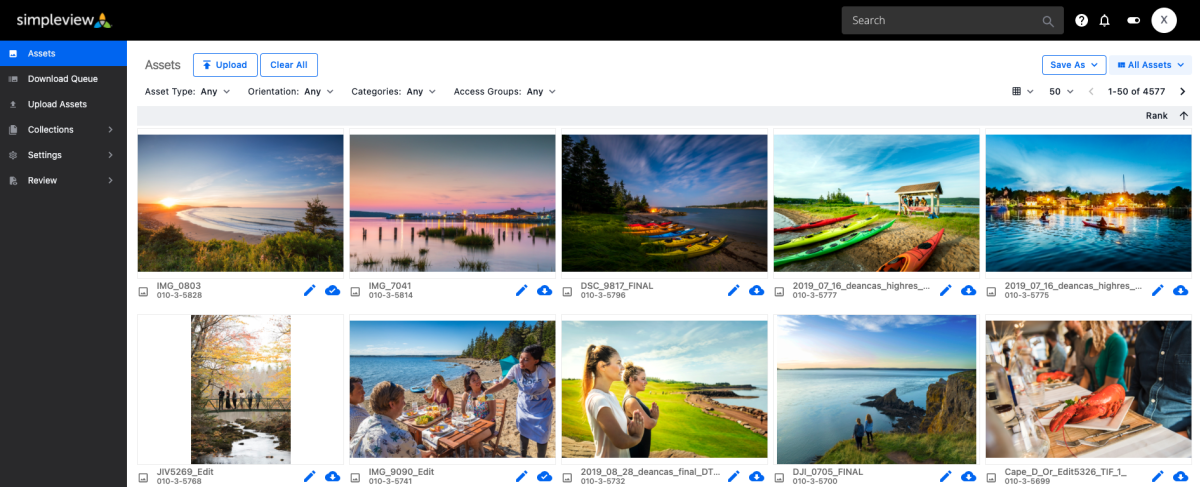 A key benefit that Tourism Nova Scotia has found from the Simpleview DAM is the ability to create and share collections with partners. This allows the DMO to distribute approved brand content quickly and efficiently by being able to search and share files easily. Since there is no limit to the size or number of files in a Simpleview DAM collection, they are able to share large video files and high-quality images through a simple link.
In addition, Tourism Nova Scotia has created a tiered, controlled approach to access. They have four tiers: Internal Staff & Agency, Tourism Partners & Media, Campaign Images (for key staff only), and External Users (non-tourism related). These access groups, in conjunction with user and asset expiration dates, allow Nova Scotia Tourism to make sure all users are seeing relevant assets when they log in for their designated time and important or expired content doesn't get in the wrong hands.
Over the years, as the destination was constantly adding new assets and building its library, they worked closely with their Simpleview DAM Analyst to learn and implement best practices. Keeping their library up-to-date is a very high priority for Tourism Nova Scotia. As their library grew, they had to find better ways for users to find the files they were looking for so they updated the keywords. They also needed to ensure proper titles, descriptions, locations expiry dates, usage information, and credit information was included for each file and worked with their Analyst to pull, update and merge this data efficiently via a spreadsheet.