In 2021, the meetings and events industry continued to see the impact of the pandemic. To highlight the impact, we have aggregated the data from over 200 Simpleview CRM clients to illustrate year-over-year trends. In reviewing 2021 meeting data and comparing it with previous years, we sought to understand the impact from a production standpoint — what destinations produced in terms of leads and definites for the current and future years.
The meetings and events industry in 2021 fared much better than in 2020; however, it may be some time before we see the data back to pre-pandemic (2019) production. As we look back at the 2021 data, we will compare it to the last two years and review lead and booking production. 
 
Lead Production Climbs Past 2020 Levels But Has Ways To Go
2019-2021 Leads by Week

This chart reviews how many new leads were being generated each week for future dates by all Simpleview CRM clients that had at least one meeting lead. In 2019, the total number of new leads was 152,170. In 2020, the total fell to 73,020, and by 2021, the number of new leads was 93,221, or about 62% of 2019 totals.
Percent of Total Compared to 2019 Leads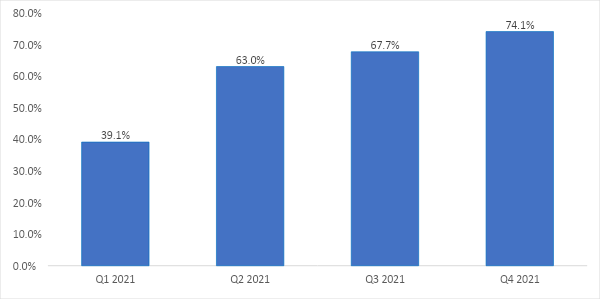 As mentioned above, 2021 was 62% of 2019 in the total number of leads. However, breaking it down by quarters reveals that the majority of the deficit was in the first half of the year. By the end of the year, the total number of leads was up to 74% of 2019 levels. As we begin 2022, we will be monitoring this figure to see if that rise continues.
Average Lead Time in Months
One of the interesting data points we documented this year was the average lead time in months. This data point shows the number of months from when the lead originated to the arrival of the meeting. In the past, this number has not fluctuated much. For example, between 2017 and 2019, the average for new leads was between 14.9 and 15.4 months. In 2020, that number reached a high of 15.8 months.
In 2021, however, it dropped to its lowest level of only a 12.2-month lead time, signaling a much shorter booking window. As we head into 2022, this will be a key metric we will be monitoring to see if this becomes a new trend or if it will return closer to the pre-pandemic booking windows.
Definite Bookings: Total Rooms Booked By Month and Future Years
Total Room Nights Booked by Month

While understanding the volume of leads generated in any given year is important, it's also crucial to appreciate which of those leads confirm definite because that's an indication the meeting planner is committed to holding the meeting or event.
In the below chart, we evaluate how many room nights were turned definite by the month it went definite ("date definite"). 
A breakdown of the total number of booked room nights: 
In 2019 — 29,798,821 (baseline)
In 2020 — 16,147,554 (decline)
In 2021 — 22,625,182 (improvement)
2021's number represents 76% of the 2019 total number of booked room nights. Notably, when we analyze new definite room nights by month, we see that 2021 was consistently above 2020 levels and even approached 2019 levels at the beginning of the year; however, as 2021 came to a close, the pace started to fall off.
Total Room Nights for Future Years

With over 22 million room nights booked in 2021, the next question naturally would be: what years were the room nights booked into? More than 39% of room nights booked in 2021 were for meetings held within 12 months, compared with 34% in 2019 and only 22% in 2020.
Percent of Business Booked within 2 Years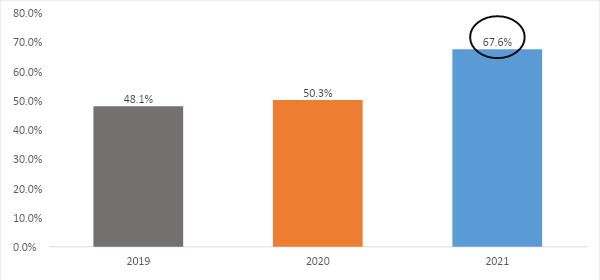 Zeroing in on the chart, let's look at business that booked within two years. The chart below clearly illustrates that in 2021 compared to previous years, more than two-thirds of all business that was booked will meet within the next two years.
Looking Ahead
As we move into 2022, be sure to stay tuned and stay connected to the Insights Data Hub, as we will be updating this data regularly. If you have any questions as to how it relates to your destination, please reach out to Suzzanne Ravitz, Business Analyst at Suzzanne.Ravitz@2Synergize.com.
[Unable to render content]