We recently examined Book › Direct searches and referrals by five U.S. regions. And while it's clear that the industry is still in recovery mode and that many destinations across the country saw steep declines in visitation over the last few months, there were two types of destinations whose KPIs outperformed most U.S. destinations in 2020: mountain towns and coastal destinations near the sunbelt. Most importantly, what resonated was the increase in demand for more private or isolated lodging types.
Coastal destinations saw increases in searches year-over-year for beach homes, cottages, condominiums, townhomes, villas, vacation rentals, and B&Bs. In comparison, mountain towns experienced high demand for chalets, cabins, B&Bs, and vacation rentals. Although not consistently in some of these destinations, searches for other lodging types also increased, such as hotels, resorts, and campgrounds.
Anecdotally, in 2020, a few destinations requested we add CDC recommended procedures and Private Entrance as amenities for the destination's Book › Direct search engine.
How did these destinations perform?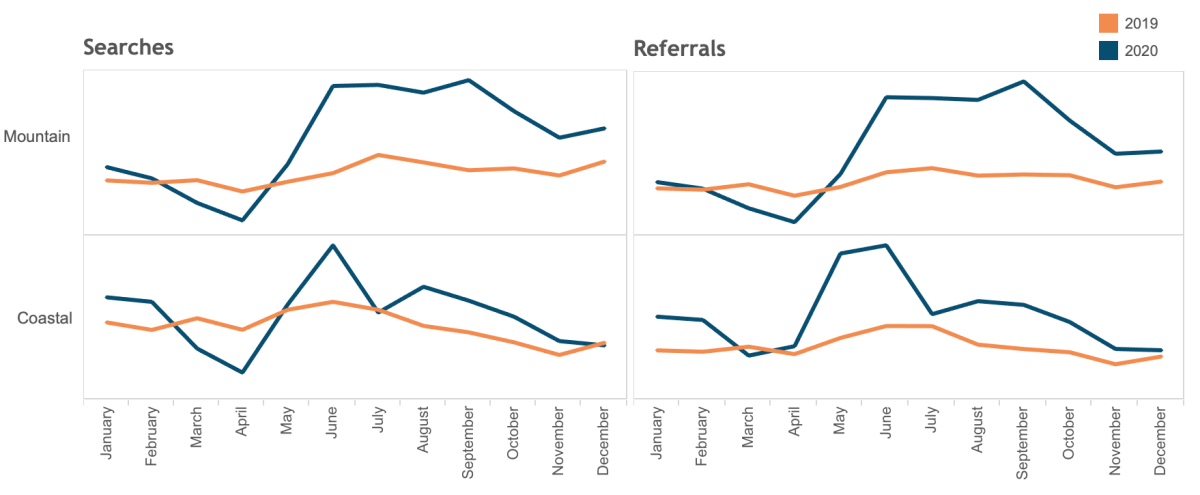 This analysis uses data from January through December for both 2019 and 2020.
Mountain towns saw a 40% increase in searches and a 48% increase in referrals. Meanwhile, coastal destinations near the sunbelt experienced a rise of 12% in searches and 48% in referrals.
We should note that just because we grouped these types of destinations does not mean they all performed equally. As a reminder, we are only analyzing searches and referrals, which could vary from actual arrivals.
To better understand the market and add more depth to this analysis, we also looked at age groups. For coastal towns, the three most prominent demographics searching for lodging were ages 45-54 (22.68% of searches), 35-44 (22.16% of searches), and 65+ (20.1% of searches). In comparison, mountain towns leaned slightly younger, with ages 25-34 representing 23.8% of searches, while 35-44 were 22.55% of searches, and 55-64 represented 16.79% of searches.
Will this trend continue in 2021?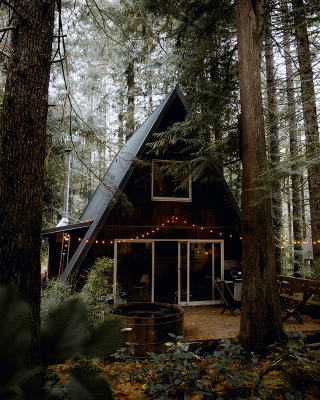 According to a Longwoods International study, 60% of American travelers continue to be concerned about spreading or catching coronavirus while traveling. Even though vaccine distribution has started, we are not out of the woods yet. Therefore, demand for isolated lodging types and outdoor recreational activities will remain strong for the foreseeable future. The good news? According to Destination Analysts, 80% of Americans have tentative travel plans for the future.
Even if your destination is not a mountain town or a beach town, you can still use this information to prepare for the future. Continue to highlight your wide-open spaces, available options for privacy and private entrances, and most importantly, be transparent about COVID restrictions. We have learned a great deal in the last few months, and while we are still on the road to recovery, there is light at the end of the tunnel.