One map … so many uses! Map Publisher creates customized, branded event and destination maps to display online and in print. Help your visitors get where they want to go — and make sure they have a great experience once they get there. DMOs that harness the power of Map Publisher enjoy unlimited map creation and sharing potential.
Offering endless possibilities for implementation, here are the top five ways we see DMOs utilizing maps to benefit their destination:
1. Entice exploration by leisure travelers with targeted maps.
2. Create campaigns to encourage locals to visit hospitality partners.
Virginia's Blue Ridge shifted their marketing strategy in response to COVID-19 and created a user-friendly, mobile-optimized directory regarding Takeout maps — including local dining options and menus
Visit Phoenix highlights black-owned businesses
3. Create an interactive itinerary that can easily connect visitors to a listing or event.
Map Publisher allows you to import a listing and customize it to include the itinerary copy, as well as create groups (hotels, restaurants, attractions) or a time frame (Day 1/Day 2). Maps can be printed with a QR code, embedded on a page, or provided as an iFrame for partner websites.
Visit Napa Valley offers an interactive Things to Do page that allows visitors to build itineraries and then pin each stopping point on the map
Los Cabos uses maps to help visitors visualize locations of its many attractions and activities with its Tours and Activities landing page
4. Put your meeting on a map — highlight the convention center and headquarter hotels in their own category. Once created, utilize meeting maps on multiple websites using the embed code.
5. Print and display large-scale maps to clearly direct visitors or meeting attendees.
Simpleview has put this functionality to use with Simpleview Summit Dine Around Guide. The maps were originally created digitally within the Simpleview CMS, then conveniently exported as 23" x 31" PDFs. After reviewing the signs and selecting their restaurant hub and corresponding shuttle, attendees could scan the QR code printed on each sign to access the interactive maps.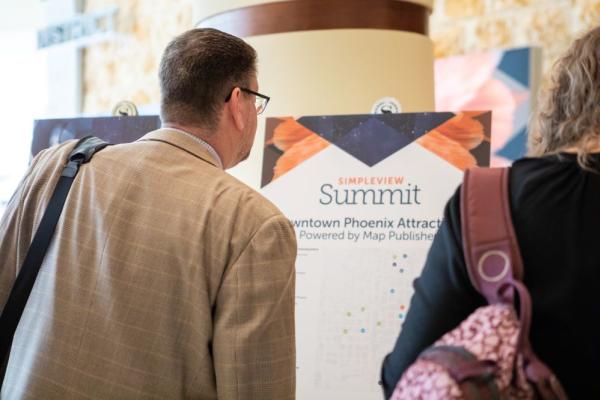 Use Map Publisher to boost website content, enhance marketing campaigns, and assist leisure visitors, meeting attendees, locals, and partners.
Learn More About Map Publisher