Diversity doesn't look like anyone.
It looks like everyone. 
— Karen Draper
Creating a more diverse, equitable, and inclusive environment has always been important at Simpleview. Right in the middle of our core values is people — we choose to work with friendly, talented people who value diversity and teamwork, reinforced by professional development opportunities and appropriate recognition and rewards.
While these have been reference points for a long time, it's been nice to have the scale and the resources to do more in recent years. After all, the company was formed by four white males. That's just a fact. I wouldn't trade any one of my partners for anyone else in the world, but it means that while Simpleview started with a lot of complementary skill sets, we also started with a lot of shared life experiences, similar world views, and like-minded personalities. That can make for insular thinking.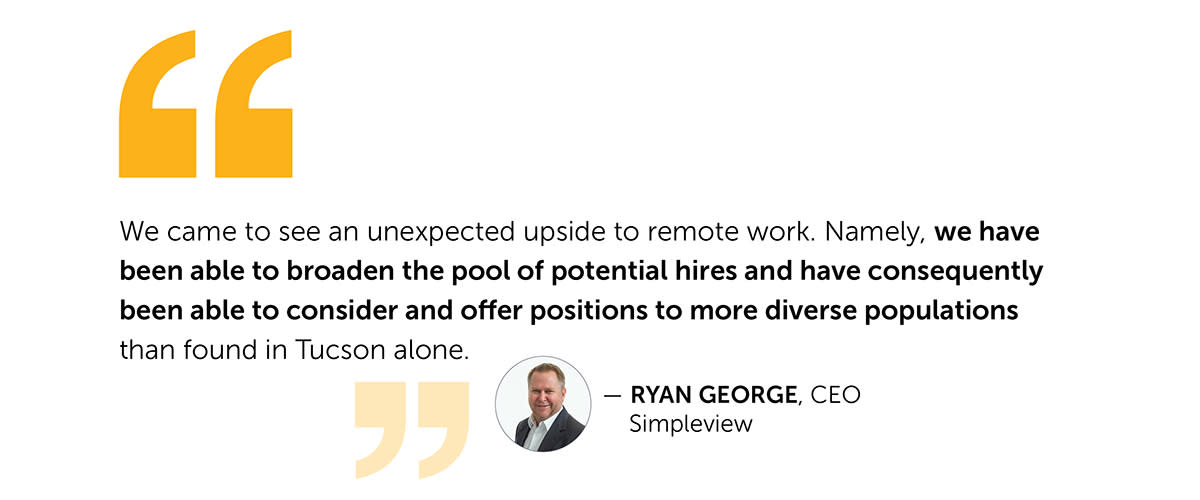 As a CEO, I understand that this thinking can lead to missed opportunities. In contrast, a diverse and inclusive culture that fosters respect and values authenticity creates a work environment where we can fully leverage different ideas, backgrounds, and perspectives. The company does better as people do better.
Setting a Foundation for Action
Simpleview is dedicated to building upon its culture of belonging throughout the global company and has implemented several employee and leadership development initiatives in recent years:
These efforts have enriched us personally and professionally. As our knowledge has grown, we've been able to plan and take direct action to make Simpleview even more equitable, diverse, and inclusive.
Simpleview's workforce moved to remote work when the pandemic started. While we had long enjoyed working together in person at our Tucson headquarters, we came to see an unexpected upside to remote work. Namely, we have been able to broaden the pool of potential hires and have consequently been able to consider and offer positions to more diverse populations than found in Tucson alone. We'll continue offering work-from-home careers as a standard option for most positions.
We're also conducting a compensation study with an independent third party to give us better insights into the metrics we've been tracking for several years now, including white/non-white and those who identify as male/female for both our employee population and in Simpleview leadership.
Such initiatives require our time, talent, and a significant monetary investment, but I can't imagine anything that will have a greater impact on the business as we step into the future.
Sharing Resources with Our Colleagues
In honor of Global Accessibility Awareness Day, Simpleview launched a new landing page, Digital Accessibility for DMOs and Why It Matters. I invite you to check it out and look for solutions your DMO can incorporate.
Pride Month is coming up in June, and I'm sure many of your destinations have associated festivities. We're continuing our commitment by hosting a panel discussion, "Pride at Work: A Conversation with LBGTQ+ Travel Industry Colleagues About Creating an Inclusive Work Environment."
Panel description: Being one of the few (and maybe only) staff members at a workplace who openly identifies as LGBTQ+ can sometimes bring a feeling of social isolation. DMO staff members will discuss their experiences as LGBTQ+ employees and chat about how non-LGBTQ+ coworkers can create a more supportive and inclusive workplace.
Please consider attending the event and inviting your team to join as well, which will be held on Tuesday, June 21.
The big takeaway here is that what matters is action. Any action is better than no action at all. Simpleview is on a journey — we're listening, learning, taking concrete steps, and investing in positive change with both our corporate wallet and our hearts. We hope you'll join us on this journey.