Simpleview Europe is proud to announce that we are now a Disability Confident employer. Set up by the UK Government, this campaign works with organisations to remove the barriers faced by disabled people in accessing the wider workplace. In addition to raising a greater awareness of their needs, the scheme also actively ensures that disabled workers have all the opportunities they need to fulfil their full potential.
Disability Confident: a Progressive Journey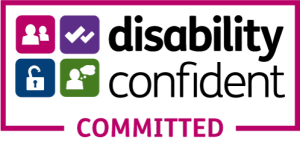 More than an accreditation, the Disability Confident programme is a progressive journey.  Simpleview has entered the scheme's first level and, as such, is now recognised as a Disability Confident Committed employer. By joining this first rung of the Disability Confident programme, we have dedicated ourselves to five core commitments, which include: 1) ensuring that our recruitment processes are inclusive and accessible, 2) the transparent communication and promotion of available vacancies, 3) the offering of interviews to qualified disabled applicants, 4) undertaking a duty of care to make reasonable adjustments within the workplace and 5) offering support to employees who have or who may acquire a disability during the course of employment with a view to enabling them to stay in work.
While specific criteria must be met in order to progress on to the second and third levels of the scheme — progression that would see Simpleview designated as a Disability Confident Employer and a Disability Confident Leader, respectively — our new status as a Disability Confident Committed organisation means that we can now access all of the support, skills and guidance we need to be a more inclusive employer. At the same time, we're able to use our new certification to flag up our status as an inclusive employer to our current and future employees as well as to our partners.
Disability Confident: a Commitment to an Inclusive Future
Commenting on the organisation's new status as a Disability Confident Committed organisation, Dan Wilbeck, EU HR Manager, said, "We at Simpleview Europe are dedicated to fostering inclusivity and diversity within the workplace. The Disability Confident initiative is key to unlocking the knowledge, skills, and confidence needed to establish an inclusive work environment. It's about attracting, recruiting, retaining, and nurturing the development of disabled individuals."