How can destinations mindfully create content with diversity, equity, and inclusion at the forefront of their strategy? 
For Steven Totten and KJ Philp on the marketing team at Visit Phoenix, content isn't simply there to increase awareness or prove ROI.
Instead, the team intentionally uses their roots in journalism to prioritize telling meaningful stories that fully reflect the Greater Phoenix community, rather than merely following the latest trends. 
While Philp leads content marketing for print, advertorial, blogs, and video, Totten supplies his savvy knowledge of all things digital — think advertising, SEO, social, and analytics. 
Together, they make a strong marketing duo dedicated to powerful storytelling that includes everyone. Totten added, "Over the years, DEI has become a natural part of our work." 
Let's dive into how Visit Phoenix leverages user-generated content (UGC) and CrowdRiff galleries to defy misconceptions about Phoenix as a destination, tell better stories, and combat tokenism in the travel and tourism industry.
Results: 
Increased representation and share of voice of marginalized groups with 292 UGC galleries and >7,000 assets at their disposal
Collaborated with Simpleview on website redesign to up visibility in organic search
Built relationships through CrowdRiff to acquire new imagery from local, up-and-coming photographers and creatives
 
Using CrowdRiff to Dispel Myths About Phoenix 
Countering outdated conceptions about Phoenix is at the core of their DMO's content strategy.
"Phoenix is still very misunderstood by a lot of people," said Digital Marketing Manager, Totten.  
People don't know about Phoenix's plentiful outdoor activities, great weather, a melting pot of cultures, nationally recognized arts district, or burgeoning soul food scene. Despite being the fifth-largest city in America, Totten and Philp view their city as the underdog, one to watch. 
How Visit Phoenix uses CrowdRiff every day 
Totten and Philp check UGC options daily for new imagery for their Galleries and comb through 7,000+ assets to embed on landing pages — including pages around AAPI, BIPOC, LGBTQ+, and accessible travel to Phoenix and the Sonoran Desert
They identify contributors and photographers who they know will post great images, connect with them on social media, and nurture those relationships to ensure the quality and frequency of their UGC stays consistent
They increase representation based on content gaps, and add new perspectives  to trends and conversations taking place on social media 
They map visual content to their target personas, like outdoor explorers or adventurers, to better understand exactly what experiences and destinations within Phoenix those travelers gravitate to
They look for UGC that shows underrepresented groups living their everyday lives — for example, LGBTQ+ individuals outside of Pride festivities — and understand the importance of showing that!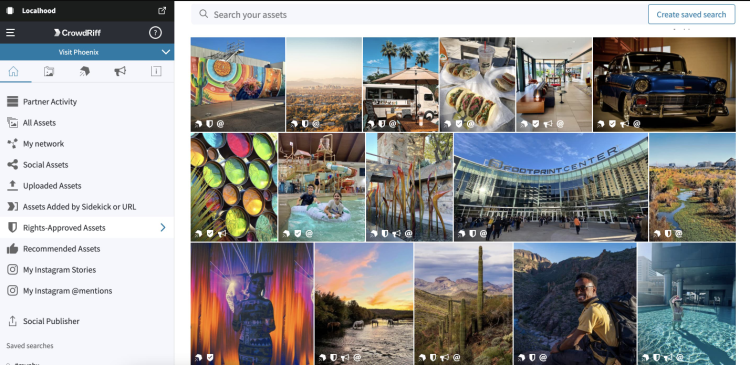 Why Simpleview Made the Perfect CMS Partner 
Beyond continually evolving their content strategy and a time-consuming re-platforming effort, the Visit Phoenix team was deep in the weeds of a brand refresh to elevate their DMO to new heights.
By late 2019, Visit Phoenix began a comprehensive content audit of 100+ high-priority pages. Their long-term provider of the content management system (CMS), Simpleview, is built specifically for destination marketing organizations (DMOs) and was able to support them throughout the process. 
Visit Phoenix leveraged Simpleview CMS integrations, drag-and-drop content modules, and intuitive UI to seamlessly curate listings and bake partner offerings into their newly redesigned website.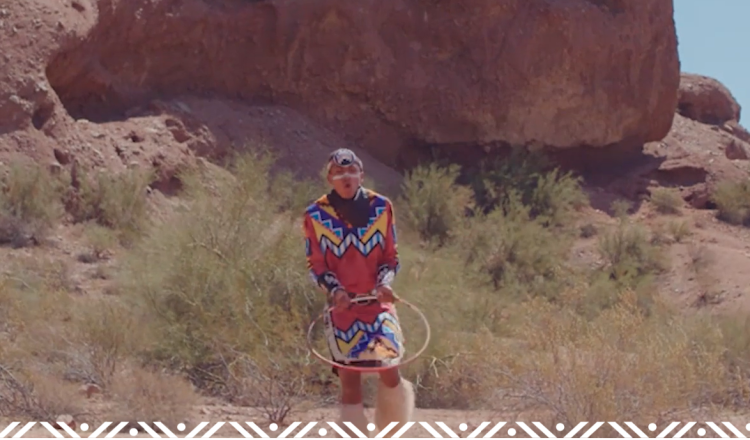 How UGC Works Overtime for Visit Phoenix  
For Philp, there's a particular challenge that crops up time and again in his work as a marketer: the rare, alchemic magic of capturing a beautiful shot at the right place and the right time. "Greater Phoenix, and the Sonoran Desert, is such a visually dynamic destination," he said. 
These days, there are myriad odds stacked against content creators. By the time you source a local photographer, plan a shoot day, account for the weather, light, or subjects needed, gather all that heavy videography and photography equipment, and arrive on location (which, in Phoenix, could very well be a mountain top), you might miss that envious golden hour casting against the desert or run out of time to get the shot.   
The process of capturing great assets for social media, websites, or landing pages ends up being a little like catching lightning in a bottle — difficult, time-consuming, and impossible to predict or efficiently replicate.  
Leaving great imagery to chance is a gamble most DMOs simply don't have the time (or budget!) for.  
UGC can energize your entire visual strategy because it's independent of marketing spend or virality. UGC is merely a mirror for DMOs, reflecting back what the community is already interested in. 
Contrary to popular belief, your audience's passions and preferences aren't always cloaked in mystery. Steven urges other marketing teams to keep things simple. "At its most basic form, that's really all we're doing — we're making sure we have stuff that looks cool," said Totten. 
 
"Honestly, I think CrowdRiff is the most helpful tool in our arsenal. It's more effective than anything else we do when it comes to our online presence." said Philp.
"It helps us stay on-trend — ahead of trend — because there are many scenarios where our Media Relations team is like, 'There's a new mural or new restaurant grand opening and we need photos.' And there isn't a more efficient way to get them than CrowdRiff." 
With CrowdRiff, you're able to capture the moment because UGC is already rooted in the moment. 
Strengthening DEI Initiatives with UGC Galleries
In a landscape where accessibility and DEI efforts are often misunderstood as empty corporate buzzwords, the marketing team at Visit Phoenix understand that good storytelling is inherently diverse. 
With nearly 74,000 Instagram followers, Visit Phoenix hopes to show them a city that's constantly sharing a multitude of perspectives. 
 
"CrowdRiff Galleries have been an important tool for us to avoid tokenism," said Philp."I don't know how else we could show an accurate depiction of destination or the subject matter without introducing that variety." 

Often, brands will virtue signal inclusivity or equity without actually taking concrete actions to better the conditions or representation of those groups. It's a surface-level bandaid on a problem that pervades far beyond the travel industry.
For Philp and Totten, this isn't a one-time effort, but a continual improvement process to show solidarity with the local businesses, partners, and community members that make Phoenix the city it has become. 
They know that hearing the same point of view over and over again or seeing the same five stock images of a destination doesn't carve room for growth, or shake off misapprehensions about what Phoenix can offer travellers. 
As Totten says, "The CrowdRiff Galleries afford us the opportunity to tell multiple stories about a place or an attraction rather than just a singular one."
 

How Visit Phoenix is Leading with DEI in 2022 
Still, Totten and Philp recognize that true diversity and inclusion is an effort all DMOs must vigilantly continue championing. They tackle this challenge by keeping their finger on the pulse of what's cool and local in Phoenix. 
"We have a shared doc called 'Stories to Tell' and this is where everyone from our marketing department adds ideas, like 'Oh, I learned about this interesting business or there's this iconic person we want to highlight,"' said Totten. "They all happen to fall under the DEI spectrum." 
Their scrappy marketing team of six plans to add one additional team member this year. Even still, Totten and Philp's list of 'Stories to Tell' steadily grows. Their goals in 2022 range from increasing their accessibility offerings and growing partnerships specifically tailored to travel communities with adaptive needs. They will also launch a new season of a video series that highlights intersectional voices, and revisit high profile interviews to repurpose that content for new audiences.
"Continuing to diversify representation across all channels with CrowdRiff assets is always a priority," said Philp. "The to-do list is ever-growing." 
[Unable to render content]