Working with influencers is becoming a way of life for destination marketing organizations (DMOs) because the savvy creatives reach an audience that DMOs can't quite penetrate. They also have built-in credibility with their audiences by curating content in their authentic brand voice.
So when Flex & Flow, a global wellness community, was looking for a venue and destination to hold its annual summer camp-style retreat, the team at Visit Virginia's Blue Ridge realized the social media prowess the group could bring to Roanoke and worked to land their business.
The event consisted of 50+ lifestyle and wellness influencers; the DMO was determined to help ensure the logistics went smoothly and to score some social media mentions. Virginia's Blue Ridge is an outdoor lover's paradise — the influencers' extensive reach was an added bonus to the economic impact that comes with booking an event that size.
We invited Kathryn Lucas, public relations manager at Visit Virginia's Blue Ridge, and Jamie King, founder of Flex & Flow, to share their experiences making the event come to fruition.

Kathryn, tell us how the Flex & Flow Summer Camp got onto your radar and why you felt it would be a good fit for your destination.​ 

Our director of public relations first connected with Jamie King of Flex & Flow during the 2018 Outdoor Blogger Summit, which was hosted in Roanoke, Virginia. The following year, our director attended Flex & Flow's summer camp in Michigan and observed/confirmed that Virginia's Blue Ridge would be a good destination to have the next camp.
Our two organizations began planning for a 2020 camp, but things were put on hold due to COVID-19. This made 2021 Camp Flex & Flow extra special as attendees had not gotten to gather for camp in two years. Members of Flex & Flow are highly engaged with their audiences on social media, so we knew their positive coverage had the potential to create a lasting impact on their followers.
Jamie, you plan several events throughout the year, and your annual summer camp is the largest. What do you look for in a destination for this event, and what did Visit Virginia's Blue Ridge do to land your event that put it at the top of the list?​ 

We carefully curate all of our events to create the best possible experience for our community — and choosing an optimal location is always very high on our list of priorities. When we consider a destination for our events, we look for places that offer an array of outdoor activities, good food, and beautiful sights.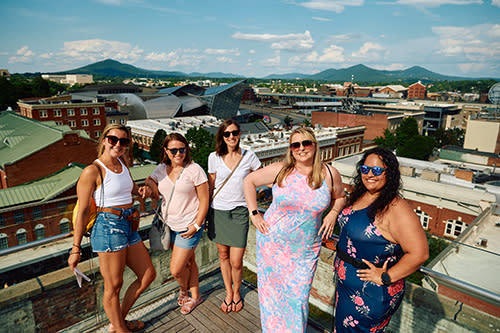 Virginia's Blue Ridge caught our eye because of the incredible access to mountains and trails, as well as the plethora of great restaurants, breweries, and fun experiences. In Virginia's Blue Ridge, we were able to offer our community a way to connect to the region by bringing them out to trails in and around Roanoke, exploring downtown, and enjoying the delicious food and drink that downtown Roanoke has to offer!
Jamie, members of the Flex & Flow community are influencers in the wellness and movement community, which must be very appealing for destinations or venues because of the potential for social media boosting. Does this factor into discussions you have when booking venues and destinations, and if so, how?

When our community comes together for events, they generate some serious buzz online (and off!) — and the destinations and venues we work with can't help but notice. Because we work so hard to curate amazing experiences for attendees, they are more than willing to share authentic social media content during the event, and even after returning home, that truly captures just what makes each region and venue unique.
Kathryn, members of the Flex & Flow community are influencers in the wellness and movement community. How were you able to capitalize on this?​ 

Our destination is most popular for its outdoor recreation, so we felt that this group of influencers was naturally a good match. Visitors come to Virginia's Blue Ridge to get active in a variety of ways, so it made perfect sense to bring in a group of women with audiences who also look for various ways to get active.
We established a hashtag (#CampFlexandFlow) that allowed us to easily track and monitor coverage during and after the event. We also encouraged attendees to use location tagging for the venue (@preservevirginia, The Preserve, located in Botetourt County, VA) as well as our destination branding (@VisitVBR, #Trailsetter) so that their audiences could easily learn more about Virginia's Blue Ridge.
On the group's final night, they completed a scavenger hunt in Downtown Roanoke that ended at a local brewery. This scavenger hunt allowed us to show off more of the destination than just a single venue and also allowed us to "share the love" (aka social coverage) with more local businesses.
Tangibly, we saw dozens of Instagram posts that gave positive coverage and exposure to our destination and partners, such as The Preserve, which was the host venue, and downtown Roanoke restaurants, breweries, and shops. Intangibly, we generated a larger awareness of our destination that will continue to pay off as more people hopefully consider Virginia's Blue Ridge as a destination for vacations or races.
We recently hosted seven attendees from Camp Flex & Flow for the annual Foot Levelers Blue Ridge Marathon, which is America's Toughest Road Marathon. It was great to see them again, and they generated over 30 Instagram posts. Getting Roanoke in front of their audiences for a second time (once in summer, again in spring) was really beneficial to keeping Virginia's Blue Ridge top of mind for potential visitors.
Kathryn, can you share other instances that influencers have helped promote travel to your destination, along with some advice for DMOs regarding how to find influencers who best fit your destination's brand?

We often work with influencers who have niche audiences that we are trying to reach. In June 2020, Visit VBR hosted Tyler Benedict of Bikerumor to create a blog post and YouTube video about "Where to Ride" in Virginia's Blue Ridge. VBR became the only East Coast destination to earn a Silver-level Ride Center designation by the International Mountain Biking Association (IMBA) in 2018, leading us to stake our claim as America's East Coast Mountain Biking Capital.
Working with a trusted mountain biking influencer allowed us to get in front of a targeted audience that an article in a more general travel publication wouldn't have. His publication was also located in one of our target markets, Greensboro, North Carolina.
My advice to DMOs would be to determine a key message to focus on and look for an influencer who covers that niche in one of your destination's feeder markets. Relationships with influencers are different than those with traditional media, as many influencers typically charge a fee for their content. This gives DMOs more control over the content that will be produced, so if your destination is looking to emphasize a new key message or campaign, finding an influencer in that particular niche could be very beneficial.
Jamie, as a group that holds multiple events each year with an influencer membership, what thoughts can you share with destination marketing organizations regarding how to make their destination a top contender?

When we choose which destination marketing organizations and venues to work with, it's a combination of whether our goals and expectations for the event align and knowing that we can have a really creative and innovative partnership with the DMO. We know our community really well and know what it takes to create a successful event — and we want partners who not only understand that vision, but are ready to think outside of the box in order to help us bring it to life!