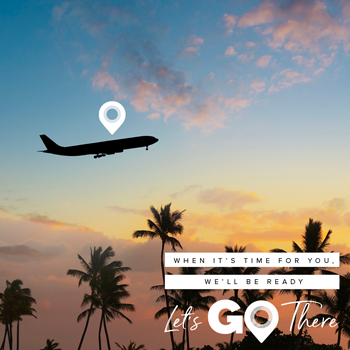 Since the beginning of March, the COVID-19 pandemic has resulted in nearly $400 billion in losses for the U.S. travel economy. And while concerns around COVID remain, recent data from Destination Analysts shows that almost two-thirds of American travelers still plan to take a trip in the next six months. 
Most of you have probably seen the Let's Go There campaign, a new industry-wide effort to reignite American's sense of wanderlust and inspire them to plan their next trip. The campaign was developed by the Let's Go There Coalition, which is supported by the U.S. Travel Association. 
This week on The Layover Live, Jason interviewed Laura Holmberg, Vice President, Marketing and Industry Communications with the U.S. Travel Association. Jason and Laura discuss the origins of the Let's Go There campaign, data and insights that the U.S. Travel Association is monitoring, as well as how DMOs and other organizations can get involved.
---
"I have been pleasantly surprised at the creativity and the extension of this campaign. The beauty of this campaign is that it really does lend itself to every type of travel business and beyond... There are so many organizations that are invested in travel's recovery and we've seen tremendous creative executions from them as well." --Laura Holmberg, U.S. Travel Association 
---
Want to get involved and help get the word out? Use the Let's Go There toolkit to learn more.