Digital Excellence

Program
DMOs are one voice among many stakeholders that shape and represent destinations. The most successful DMOs help align them in shared vision and actions: partners and businesses as well as economic development groups, elected officials, civil employees and more.
Our Digital Excellence Program is a multi-phase destination development solution that can include a mix of consulting, webinars, on-site workshops and more to help DMOs engage and coordinate stakeholders as allies, emphasizing the importance of digital reputation management.
Digital Influence

Report
Our Digital Influence Report offers a comprehensive overview of a destination's digital presence, giving you tactical insights into how your primary tourism drivers are represented online and how that contributes to your destination's overall footprint.
We assess each business on 100+ data points across dozens of channels, including Google, Facebook, TripAdvisor and more. The Digital Influence Report uses proprietary algorithms to score your destination's tourism verticals both as an aggregate and at the level of your individual stakeholders, surfacing opportunities to improve both the aggregate and individual stakeholder scores.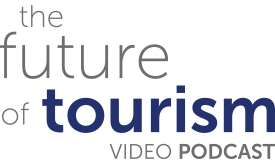 Tune in for candid conversations with industry leaders, luminaries and visionaries addressing the challenges and opportunities facing travel and tourism today.
Launched in April 2020, initial episodes feature Trevor Tkach (President and CEO, Traverse City Tourism), Greg Oates (SVP, MMGY NextFactor) and Rodney Payne (CEO, DestinationThink) exploring industry impacts from and responses to COVID-19.
 

Join the Weekly Discussion
Subscribe to The Future of Tourism bi-weekly newsletter