Instagram ads are here.
If you've used Instagram within the last month, then you've most likely stumbled across a few sponsored posts showing up in your feed, from brands and companies you aren't following. Now before you start worrying about learning another advertising platform, a little history lesson is in order.
The Past
Instagram is the brainchild of Kevin Systrom and Mike Kreiger, two Stanford grads with a background in computer engineering and a penchant for startups. While working on a web-based check-in service startup, Kreiger and Systrom realized their current project contained too many features that users simply didn't want. Instead, they decided to focus on one specific feature: photo sharing. Thus, Instagram was born, deriving its name from the combination of the words "instant" and "telegram."
Within two years Instagram exploded in popularity with over 80 million users. This caught the attention of Facebook's board who bought Instagram in April 2012. Since then, Instagram has seen exponential growth, with additional features, filters, languages, and interface updates being added regularly. The most important addition (and what you most likely came here for) was the launch of sponsored posts and videos in November 2013. Since then, the ability to advertise on Instagram was open to only large corporations with millions to spend on advertising. Almost two years after officially launching their advertising platform, Instagram has begun slowly rolling out their platform to anyone interested. This is where you and I come in.
The Present
Remember that piece about Facebook buying Instagram in 2012? Well, take a guess how you get access to Instagram's ad platform? Yep, you guessed it — Facebook's ad platform. The advantage of this is you can now take the same great targeting given to advertisers on Facebook and apply it to Instagram users as well.
Now, these ads aren't just your standard Instagram post! They allow for a call to action with a link to an external site, as well multiple images in a carousel format. Here are a couple examples: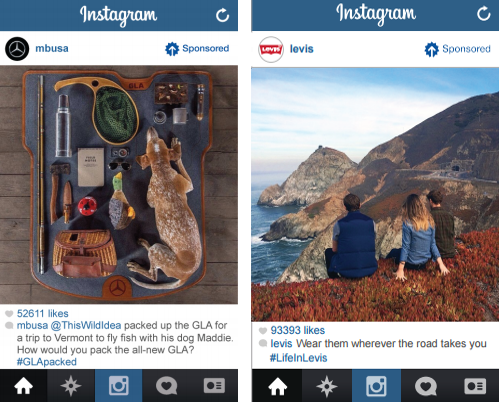 A common argument might be something like "Well, I'm already advertising on Facebook and using Adwords, why do I need Instagram now too?"
It comes down to one thing. Attention.
We've all heard the studies about banner blindness, decreasing CTRs, and rising CPCs across most platforms. This is due to the fact that internet users have become aware of the strategies of advertisers and have simply decided to ignore their efforts. This is where Instagram shines — by displaying ads directly in the feeds of targeted users, you are emulating the organic content they are already used to consuming. This is similar to Facebook's newsfeed ads.
If organic emulation isn't your cup of tea, Instagram ads have produced some amazing statistics. Here are a few based off of Instagram case studies:
97% lift in ad recall
16-point average ad recall lift
7x higher Nielsen ad recall vs. other study data
Regarding performance, real world users have found statistics similar to these:
CPC: $0.44
CPM: $6.58
CTR: 1.47%
The Future
Instagram ads are here to stay. Instagram ads are poised to account for over 10% of Facebook's total ad revenue this year and projected to continue growing. There's no better time to be part of Instagram ads than the present.
For more information about Instagram and social media advertising, contact our SEM team at info@simpleviewinc.com.
Sources:
Instagram
eMarketer
Penna Powers