When it comes to a safe reopening of local business on the road to recovery, collaboration is key.
With the health and safety of customers being the number one priority, travel professionals are already teaming up with medical professionals and public safety specialists to develop guidelines for safe reopening, like with the U.S. Travel Association's Travel Confidently toolkit.
Visit Fort Worth took this one step further in close collaboration with their local civic leaders, hotels, businesses and attractions to provide the support and spirit they needed. So when it was time to shift from "Ya'll Stay Home" to a cautious "Ya'll Get Ready," they had a few key tricks up their sleeve. Here are some of their great ideas that can be readily adapted no matter how big or small your destination is:
Start with live broadcasts to inspire confidence until fans can safely return. At Fort Worth, they were able to tip-toe back into welcoming visitors and market their destination by hosting several sporting events that were broadcast live.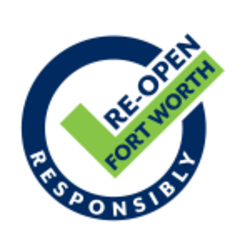 Try a digital badge. Fort Worth introduced a "Re-Open Responsibly" badge designed for businesses to feature alongside their public commitment to COVID-19 safety guidelines like handwashing and social distancing. Over 130 businesses have made this commitment, and many have gone on to promote on their own social media channels as well.
 
Blend safety into your marketing creative. In keeping with safety guidance and in service to the community, Visit Fort Worth developed "Ya'll Wear A Mask" graphics they are promoting with creative that authentically speaks to their brand.
It takes a ton of communication and collaboration to make all of this happen, but as Fort Worth is learning it's well worth the effort. Take a few minutes to catch up on our conversation on The Layover Live to learn more, or get in touch if we can help at all — that's what we are here for!