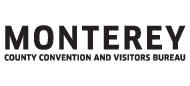 Wine Enthusiast Magazine, which is the world's largest periodical devoted exclusively to wine and spirits, has named Monterey County, California as one of the top 10 wine travel destinations in the world. This premier wine-producing region is one of three destinations in North America that was chosen by the magazine's editors.
"It's a nice stepping stone in the brand path we are laying," said Rob O'Keefe, who is a member of the Monterey County Convention and Visitors Bureau's marketing and partnership department.
The magazine recognized Monterey County for several reasons, including its beautiful scenery around Big Sur, the 17-Mile Drive and the Pebble Beach golf courses. Additionally, they cite the "glamorous resorts that dot the county, featuring world-class cuisine, stellar local wines and full spas that pamper with style."
As the Monterey County CVB is a valued Simpleview client, we are excited about this recent recognition of their destination. We hope 2013 proves to be a memorable year that is full of achievements for the bureau's team.
For more information about Monterey County's designation as a top 10 wine travel destination, read the full article on WineMag.com.