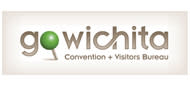 Thanks to efforts from the Go Wichita Convention and Visitors Bureau and other hospitality industry businesses, the destination's tourism sector fully rebounded and returned to pre-recession highs in 2011.
According to recent findings from the bureau, visitors from outside the area spent more than $700 on hotels, meals, tickets, shopping and more in the four-county Wichita area. This marks a five percent jump from 2010.
Go Wichita also plans to increase tourism in coming years, thanks to several initiatives they are spearheading. These include revisiting their strategic master plan, developing a more detailed profile of the area's visitors and redesigning their website.
This is excellent news for this Kansas destination and Go Wichita - one of our valued clients. We are excited to be involved with the city's tourism rebound and look forward to future work together.