Marketing automation platforms can help businesses, including destination marketing organizations, deliver memorable, personalized digital experiences for their customers. It all starts with your content—whether web pages, emails, or social media posts. Marketing automation helps you track your customers' content engagement (through touchpoint engagement data) to help you better understand your potential visitors and what might encourage them to visit your destination. As a result, you're able to deliver opportunities tailored to each individual visitor, delighting them with highly relevant information and experiences.
What Marketing Automation Looks Like in Action
Here's how an automated nurture program might influence a leisure visitor's digital experience: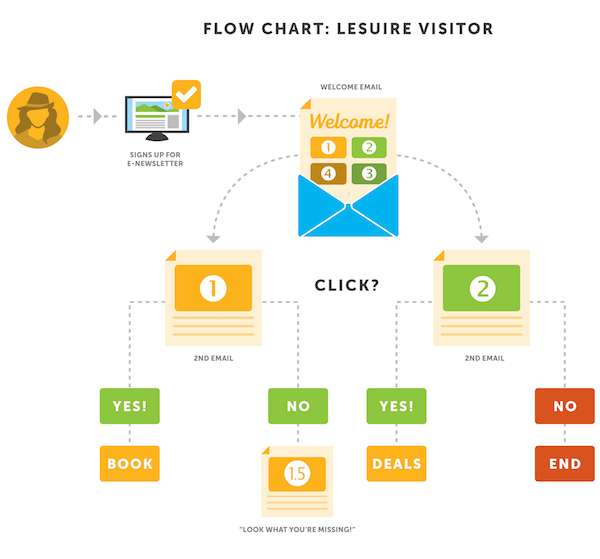 A travel planner/potential visitor visits your destination website, clicks on a button to sign up for your e-newsletter, and submits a form with her email information. Her behavior triggers a follow up "welcome" email to be sent to her 15 minutes after exiting the page—which includes a booking offer and deal information, such as special experience packages.
An engagement with these materials—say, the visitor clicks to read more details about an experience package—indicates the visitor's interest is peaked. You enter her into a three-week nurture program (whatever makes sense for your buying cycle), in which she's sent a series of progressive messages based on two variables: who she is (demographic) and what she does (behavior). This way, you've done some legwork by the time someone from sales reaches out — to paint a clearer picture of the potential buyers' interests, needs, pain points and more.
Having this intelligence ensures that your DMO delivers a unified brand experience across all channels: both online and offline, across marketing and sales.
As more and more data is collected on a potential visitor over time, your team can begin to tailor what that individual sees when he/she comes to the destination website: a welcome note upon arrival to the homepage; a thank you for visiting, using a first name; an email invite and details for an event taking place during their season of interest for visiting, or recommending content specific to their role or interest.
It's these customized digital experiences that can move the needle for a brand and convert travel planners into visitors and visitors into advocates.
From Data to Delivery
Destination marketers need to map out personas for their visitors: their likely interests, their likely constraints, and their likely pain points.
Chelsea, the Meeting & Event Planner for her business, for instance, may require a very different kind of sales touch than Molly, a mom planning a family vacation, or Jackson, the outdoor adventurer. Chelsea may want details about the nearest major airport, convention centers, hotels with business centers and fitness facilities, and dining options, versus Molly's interest in museums, beaches, hotels with pools, and family-friendly entertainment. Jackson may want to know about hiking trails, zip-line adventures, surfing lessons, and sports arenas. The better sense you have of how these personas work for your business, the more you can personalize the digital experiences you offer.
You should also look to divvy up their outreach by the various stages of the customer lifecycle, so the content offered a prospective visitor in a drip campaign coheres with their journey: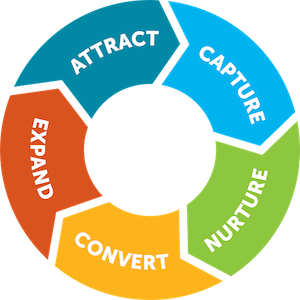 the Attract stage: where you generate awareness around your brand
the Capture stage: where you capitalize on a buyer's interest to get their info
the Nurture stage: where you build trust over time, reinforce the needs that your product answers
the Convert stage: when the opportunity becomes a customer and
the Expand stage: when the customer becomes an advocate, or is upsold to a higher tier of service.
Your Digital Experiences Support Structure
Good marketing automation governance comes down to three things: proper workflows, proper staffing, and proper resource allocation.
If you're new to deploying a marketing automation platform, consult your peers in sales early on about the buyers they court — sales' criteria for leads, preferences on the handoff process (separating cold ones to be nurtured from warm ones to be called) and methods of follow-up. This way, you can put structures in place to support the experience across departments for better collaboration and alignment.
You should also take a look at how departments are organized, to make sure that the appropriate staff is in place to support strategy and goal setting (people responsible for creating a larger roadmap, determining realistic metrics for success), marketing operations (technologists charged with managing and refining programs day-to-day) and content creation (creatives providing fuel for the MA engine).
Finally, take a close look at how you've allocated your current spend. To justify the expense, keep metrics close (to prove value), offer a factual perspective, demonstrate the competitive advantages (what you're up against otherwise) and delineate a clear plan of attack.
Consider current content and spending trends: 
Goals Set
Here, it's again helpful to consider the digital experiences in your buyers' journeys and set your metrics accordingly.
How many visited your site at the Attract Stage, and what offers held their attention longest?
At the Capture Stage, what calls-to-action performed best?
How many marketing-qualified leads did you produce at the Nurture stage, and what activities contributed most to lead scores?
At the Convert stage, how many sales-qualified leads were generated and new customers won?
How many signed up for your newsletter or requested a visitor's guide at the Expand stage?
How many customers onboarded in the last 12 months has your destination retained?
You can also break results out on a case-by-case basis: tactical metrics (open rates, subscribe and unsubscribe rates, conversion rates, attendance), campaign metrics (total lead volume, sales-ready leads) and program metrics (close rate, time to close, cost per close, revenue per customer).
For the Love of the Customer
Marketing automation helps DMOs to customize and personalize their customers' online experiences and the subsequent interactions they have with the DMO. By leveraging data collected in the marketing automation system, DMOs can now feed tailored content and messages to their site visitors in line with what is most important to them. This can positively impact both the acquisition of new customers and the retention of current.
Editor's Note: Based on an article by Paige Musto about personalized digital experiences that appeared originally in CMSWire, and a blog by Nathan Isaacs that appeared on Act-On.com: "Where Marketing Automation Fits in the DX Journey."
Want more ways to deliver memorable, personalized digital experiences for travel planners? Read about:
3 Proven Techniques to Skyrocket Engagement through UGC
Weaving Mobile Apps into Your Digital Marketing Mix