In 2012, our company decided to invest in enhancing our team's overall expertise through several professional education programs. Regardless of title, each employee receives a set amount of funds each year to learn about latest trends and processes, all to provide consistently excellent recommendations to our clients.
To help share some of those learning experiences, some of our Simpleview team members will be posting here on the blog about their times in classes and conferences.  To continue our "We Learn, You Learn" series, Sam Brace on our Website Development and Support team has written about his time at Confab 2013 in Minneapolis, MN.
---
After attending several public relations conferences and events last year, I noticed some of the information presenters were giving there had gotten stale. I was on a search for a fun and informative learning opportunity, and thanks to advice from Andrea at Experience Grand Rapids, I found Confab. I highly recommend this conference for anybody who is involved with their organization's content development, whether they are writing it or planning a strategy around it.
Being around such intelligent communications- and content-focused professionals was especially helpful for me, as I was transitioning from my past role as Simpleview's communications manager to my new position as a CMS training manager. Not only was I able to hear about some of the challenges and pitfalls that people face in all industries, but also see how people were using their various content management systems to plan and place the content they're creating.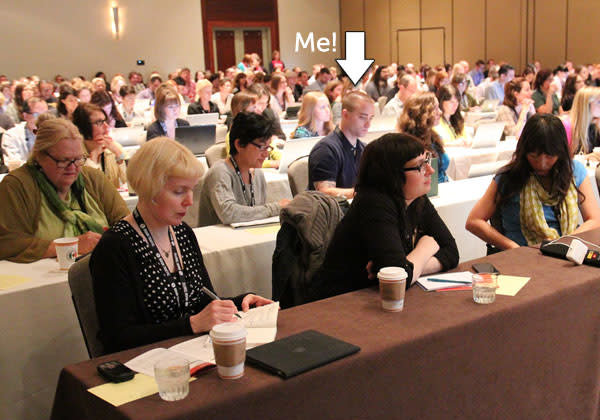 With that said, there were several takeaways from the conference that I think anybody in a marketing, public relations or communications position would find valuable.
Every Pixel on a Page has an Owner
Simpleview is in the business of helping destination marketing organizations with developing and optimizing their Web presence, among other things. Therefore, there is constant work being done to refresh and enhance the way a website's content is delivered, whether it is written or through visuals such as photos or videos. The nature of a redesign or site refresh can cause some to simply decide to throw away all the work that had been done in the past as an attempt to start with a blank slate. It's the exact opposite approach to what Mario Vasquez on our team described in his "We Learn, You Learn" post:
"Like moving to a new house, you tend to accumulate more "necessary" stuff that takes up space and is not used by anybody." 
I agree with Mario that keeping underutilized content around is a waste of space. I also think going to the other extreme and throwing everything away isn't the right answer either. Both of these options have negative ramifications.
It's important to remember that somebody took the time to write the content that is either being brought over to a new site or is being tossed out. This is somebody who is human and has feelings. They may likely have a sense of ownership over that content, as they put some degree of effort into creating and maintaining it. We have to respect that idea that every pixel on a page has an owner throughout the redesign process, otherwise, getting a team to buy into a fresh concept will be an uphill battle.
And for people to feel ownership over their work is natural and fair. It's also likely for them to push back when change is potential, especially since people can see the change having a major impact on their lives. If somebody owns a set amount of content on a site and somebody comes along and says, "No, this is what it'll be," then a negative reaction should be expected.
That's why content development shouldn't be...
Us vs. Them
To quote Sick of It All, one of my favorite bands: "When it's us vs. them, you can always count on me." While the song has nothing to do with team dynamics when developing content plans and strategies, the larger point that we're all in this situation together and somebody can be the voice of reason.
Ultimately, a DMO's website will represent their entire destination. Somebody may own tasks such as updating the listings or making sure the social media accounts are maintained, but the collective team should feel like they are invested into every pixel, regardless of whose job it originally was to create them.
It is an issue to see black and white issues and cause people to take sides when that dynamic should not exist, especially when completing a project such as a website launch. While people may be passionate about building a responsive site or providing their content in a more conversational tone than in the past, it does not need to be a fight. There are enough metrics and pieces of measurable data available to DMOs today to drive a decision toward one area, which should prevent camps of people within a team to align against each other.
That is why it is important to have a strategy around the content and a purpose tied to each piece that is supported by real behavior, not assumptions. People do not want to let go of work they put their heart and soul into, but if it can explained why the content works or does not work within the determined strategy, the argument is that much stronger.
So, the next question you may be asking is...
How Can My Idea Fit Into the Larger Strategy?
If you're reading this, I'm sure you have a few ideas on improving your company or organization. However, getting those implemented may be hard, even if you see ways that they fit within the internal "big picture" concepts and strategies.
Simply saying, "My thing is important," will just turn off other team members unless you show how it fits. This will require you to get involved in the planning and be active in meetings, some of which may be long and painful. And being active means being collaborative, not simply throwing insults and pointing out faults. Collaboration can be as simple as getting up to talk to the person, rather than shooting IMs and emails back and forth where meaning can be lost. Let the team know what you are thinking by explaining your set goals and needs, but without getting defensive.
I know - this is easy to write about, but hard to implement. It's natural to want your way. Nevertheless, it is your job to make everybody care as much as you do, which requires you to consider that "strategy" I keep mentioning. Moreover, it may mean that you need to frame the content discussions around topics that matter to your organization at that time.
While these concepts helped me to better understand team dynamics around a new project such as a website redesign, they only scratch the surface of what was covered at Confab. I highly encourage you to follow the content strategists that shared these models and ideas at the conference - Kristina Halvorson, Paul Ford, Jonathan Kahn and Sara Wachter-Boettcher.