Bryan-College Station is a community rich in tradition and history, set deep in the heart of Central Texas. One can stroll the scenic campus of Texas A&M University, mingle with real cowboys at a thrilling rodeo, and take in a live symphony performance all in one day.  Whatever brings visitors to town, from a business conference to parents' weekend or a class reunion at the university, you'll find a Texas-sized "Howdy" waiting around every bend.
To help capture the essence of this destination with modern amenities and small-town charm, the Bryan-College Station Convention and Visitors Bureau worked with us to revamp their site - VisitAggieLand.com. This included developing a mobile site - m.VisitAggieLand.com - to provide an optimal experience for visitors that are using multiple devices to learn about the region's hotels, restaurants and events. Both the website and mobile site received a full design overhaul from our creative team and are integrated into our content management system - Simpleview CMS - to give the CVB staff an easy way to keep their site maintained and updated with new marketing campaigns and information.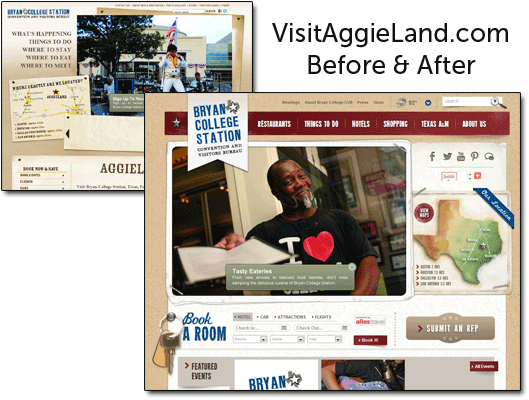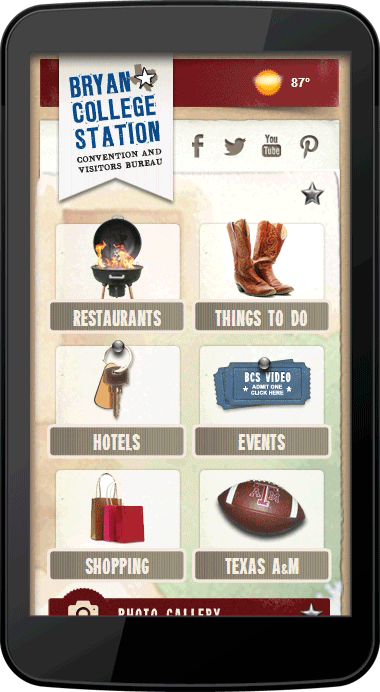 Get Smart Content, which is one of our strategic partners. This provides targeted, customized content through the CVB's homepage header that is specific to the visitor. If someone is visiting the site and is near one of Bryan-College Station's drive markets, such as Austin or San Antonio, they will receive an experience that is tailored to them. The header will also change for visitors coming to the site from search engines like Google and Bing and are using specific keywords to find it.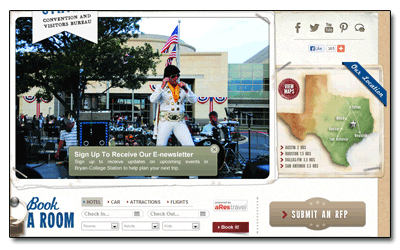 VisitAggieLand.com a one-stop site for people planning their time in the region. Therefore, they worked with aRes Travel and us to build a robust booking engine, allowing visitors to book their hotels, rental cars, flights and attraction tickets right from the homepage. No more bouncing around the Web to find deals or offers, as the CVB has done all the legwork for you.

VisitAggieLand.com and discover what makes this destination so unique.