In 2020, many destinations around the world saw record-low website traffic numbers. Raleigh, North Carolina, was one such destination. After COVID-19 hit North America, Visi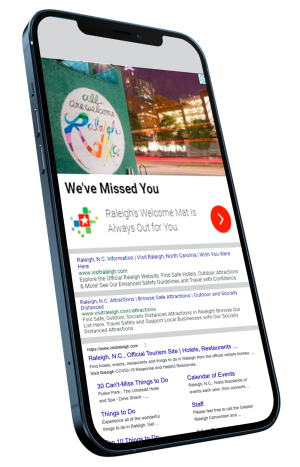 t Raleigh's April 2020 paid traffic was down 55.6% and their organic sessions were down 46.6% when compared to April 2019.
The pandemic's impact on Raleigh area tourism in general was massive. By midyear, the area had suffered revenue losses of $118.5 million due to the cancellation of 227 events, and these cancellations led to the loss of 279,000 tourism visits from group markets alone. Prepared food tax collections from local restaurants were down 26%, or $4 million, while hotel lodging tax collections were down 49%, or $7.2 million. Local hotels experienced a dramatic 36.7% decrease in occupancy year-over-year through June 2020.
We collaborated with Visit Raleigh's initial tourism rebuild & recovery plan, funded in part by CARES Act funding, to incorporate Count On Me NC messaging in paid media efforts, using agile and dynamic messaging, bidding and targeting to increase paid traffic year-over-year for Raleigh.
During the CARES Act funding period, Raleigh's PPC ads garnered 22,008,584 impressions and 276,926 paid web clicks, a 145% increase in paid traffic when compared to the same period in 2019. This is especially remarkable during a year when paid media traffic has been down for an average of 64% year-over-year.
In addition, the CARES Act-related campaigns attracted 32,855 paid visitors who spent at least 2.5 minutes on the site (up 8.5% compared to the same period in 2019) and 62,460 paid visitors who clicked through to at least two pages on the site (up 5.4% compared to the same period in 2019). 
If you're interested in learning how to use your American Rescue Plan funding for a paid advertising campaign, reach out to your customer success team or schedule a call with our digital marketing team using the form below.