Located just two hours outside of Washington, D.C. and home to three of the first five presidents — Thomas Jefferson, James Madison and James Monroe — the city of Charlottesville, Virginia is one of the most historical destinations in the United States. 
Surrounded by gorgeous, rolling hills, the city has been awarded a number of accolades for its southern charm, beautiful scenery and 35 charming vineyards. (After all, Charlottesville was home to Thomas Jefferson, the first American to experiment with winemaking.) 
When it came time for the team at Visit Charlottesville to rebrand the destination, they wanted to capture all of the destination's unique attributes — from its historical significance to its small town charm and award-winning wineries — and infuse them into a new visual identity.
They worked with an agency during the rebrand process, which resulted in a new visual brand with a hipster, industrial aesthetic. From there, they reached out to the Simpleview experience design (XD) team to bring this new brand to life with a website redesign. No stranger to working with agencies, our XD team served as the bridge between the Visit Charlottesville team and the agency during the design process, ensuring that both parties felt the integrity of the new visual identity was upheld. The end result was an extremely smooth process and a website that all parties were excited about. 
During the redesign process, the team set several goals for the new site. Conversion-wise, they wanted to see an increase in visitor guide requests, eNewsletter sign-ups and blog sessions. Design-wise, they were looking for a highly visual site that showcased all that Charlottesville had to offer, beyond just their reputation as a historical destination. 
To accomplish these goals, our designers created a site design that highlighted high-quality photos and videos and displayed a prominent highlights collection. Furthermore, they worked to call attention to other aspects of Charlottesville's lively culture, driving visitors to pages showcasing outdoor activities, wine and craft beer tasting, and arts & culture attractions.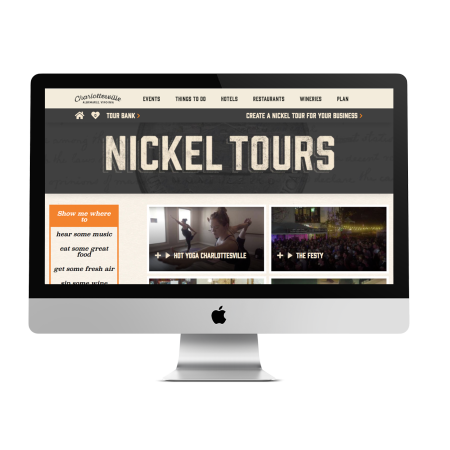 In an effort to increase exposure to the "Nickel Tours" — 15-second videos designed to pique visitor interest in specific attractions — and encourage user click-through, the teams also made the decision to highlight the page on the homepage and in the main navigation bar. 
So if you're ever in the southeast, be sure to swing through Charlottesville and enjoy a refreshing glass of wine at Monticello, Thomas Jefferson's beloved mountaintop home.