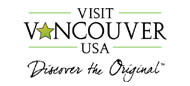 Nestled between the Pacific Ocean and the Cascade Mountains, on the north bank of the Columbia River, Vancouver USA is as naturally beautiful as it is diverse. This Pacific Northwest city offers a combination of colorful history, recreational activities, charming shops, extraordinary eateries, an up-and-coming wine region, affordable attractions and more.
To help attract visitors to this Washington destination, the Vancouver USA Regional Tourism Office reached out to Simpleview for assistance in updating their online presence.
Together, we built a content management system (CMS) for their staff to easily make updates to site pages and ties to their CRM database - Simpleview CRM. Our creative team also developed a fresh look for their site and its sports section to emphasize the city's scenery and attractions.
Some of the site's unique features include:
Information Rollovers for Images - Images on the homepage can include an Information Box, which allows users to rollover it with their cursor to find out more information about the image. For example, pictures from Vancouver's Ilchee Monument can provide details about the statue's significance for visitors, inspiring them to visit and learn more about it.
Hotel Rates at a Glance - Lodging listings include an integration with JackRabbit BookDirect, which allows visitors to quickly see the average rate per night for hotels and to make reservations right from Vancouver USA's site.
Custom Featured Listings - Have you ever gone to an event listing page as a traveler, but had a hard time determining which would be the most entertaining or worth your time? Our team built a marker that allows the tourism office to list certain events as "Featured." If they have also been listed on the homepage, the marker is automatically placed, allowing for easy management from the office's team.
Whether you are staying downtown or venturing out a bit-there is a lot to see and do. You just might be surprised to discover all the wonderful hotels, restaurants and events in Vancouver USA. Discover all that the destination can offer on VisitVancouverUSA.com, whether you are there on a vacation with the family or in town for a business conference.