Valley Forge and Montgomery County, Pennsylvania, are rich, historical sites with sprawling natural beauty. Once a Native American hub for its fertile land, plentiful resources, and mild temperatures, Valley Forge and Montgomery County now host some of the nation's premiere historic attractions and outdoor adventures, from the Valley Forge National Historical Park to the King of Prussia Mall.
A valued CRM member since 2005, Valley Forge and Montgomery County CVB sought a fully responsive website with greater social media integration and content display functionality.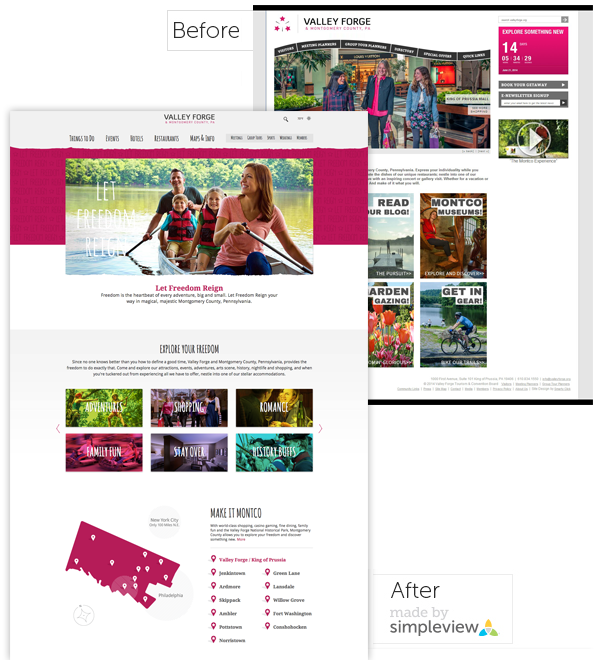 The vibrant new website, www.valleyforge.org, is fully responsive and optimized for viewing across all of your web devices.
The regional, interactive map featured on the homepage and interior landing page acquaints visitors with the different attractions and a brief description, while also allowing them to jump to the attraction's corresponding page.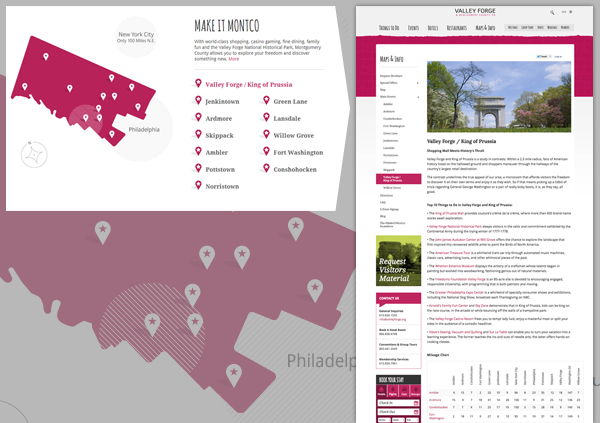 Valley Forge and Montgomery County CVB's new Instagram Feed makes it a breeze to share user generated images from their Instagram account or #MakeItMontco hashtag onto their page.

 

For more control over the display of image boxes on mobile devices, the CMS user has the ability to change an image box's settings and remove the photo from a widget to make the website display more mobile friendly.

 


Valley Forge and Montgomery County CVB utilized 30+ pages of copywriting, Search Engine Optimization (SEO), and Destination Travel Network (DTN) services to create more content, greater traffic, and increased pay-per-click revenue, allowing them to reinvest revenue and offer greater value to its partners.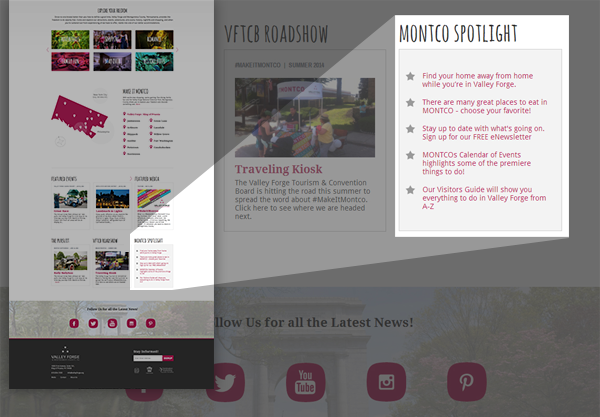 Our staff commends Valley Forge and Montgomery County CVB for being so engaged throughout the entire website build. Hop on over to www.valleyforge.org and experience all that Valley Forge and Montgomery County has to offer!