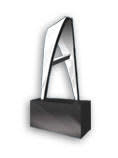 Hospitality Sales and Marketing Association International (HSMAI) recently announced the winners of its 56th annual Adrian Awards - one of the prestigious awards in the travel and tourism industry - and three of our clients have won!
Why did each site win? Today, we'll be covering the Utah Tourism Office's website launch details and will delve into the Oklahoma City CVB site in a future post. You can also read our post about the Macon-Bibb County CVB's site redesign.
Additionally, you can read our official press release for more information about the awards.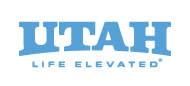 The Utah Office of Tourism wanted a fresh website to better provide information about what visitors could experience throughout the state. They aimed to be a true gateway to all of Utah's tourism destinations - 14 ski resorts, five national parks, 43 state parks and hundreds of dining, shopping, sporting and historical venues.
The tourism office also faced stereotypes of their state, which they felt prevented some travelers from choosing Utah for their vacations. Because of the state's history with the Mormon faith, whose followers typically abstain from drinking alcohol, there is a perception that it is hard to find a bar or a city with an active nightlife.
Additionally, research showed that visitors only thought of Utah as a skiing destination, neglecting the opportunity to participate in its non-winter events and activities.
Utah's Office of Tourism had also increased their social media efforts, with active posts and other content being issued through their Facebook, Twitter and other accounts. However, the public had a hard time finding the accounts. Their marketing team subsequently struggled to increase their follower count, as the networks were not integrated through their website.
Enter Simpleview. We began working with the tourism office on compiling images from around the state and developed mapping technology to help visitors realize where everything was specifically located.  This effort would translate to helping visitors easily plan their trips and build their schedules. This feature was in addition to developing region-focused tabs to organize the Utah Office of Tourism's library of images into northern, central and southern sections.

We also implemented a statewide weather widget and a seasonal theme widget. In their new content management system, there is an easy-to-use switch to convert all imagery on the site to a particular season. Rather than overhauling the site to focus on summer or winter for a few months, the staff can highlight their snow or sun in a matter of seconds. The weather widget allows visitors to find out if it is raining or shining in Provo, Ogden or Moab through an easy-to-use drop down menu.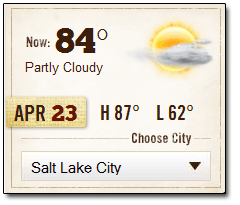 The site design also focused on the "Life Elevated" brand, delivering messaging that speaks to the leisure travels searching for luxury, outdoor adventures or family activities. Religious perceptions are minimized through the new creative treatments.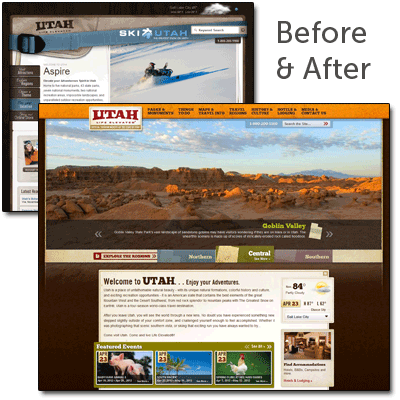 And the result? Because of the social media integrations, Utah's Office of Tourism significantly increased their follower counts on several networks. For example, their Twitter follower count increased by 74 percent from March to August of 2012.

The updated technology decreased the staff's time to update site content. This comes from integrating their CRM system with their CMS by making changes to their listings in an instantaneous way. Additionally, mapping technology and integration with Google Maps allows for people to truly understand where an event is happening within the state, combating the issue of only seeing the state for its skiing options in the mountainous sections.

"Simpleview gave us the tools, website and consultation we needed in a concise package," said Leigh von der Esch, managing director of the tourism office.  "The CRM and CMS were easy to learn and allowed us to quickly increase promotions without having to worry about low-level details."