Apple Privacy Updates
Last summer Apple announced changes to its App Store submission process requiring developers to disclose information about the data being collected by their app and whether it is used to track or link to app users. This information is presented to users in the app's product page and details the app's privacy and data use. Starting December 8, 2020, Apple made this a requirement for all new apps and app updates being submitted.
Existing Apps
Apps submitted prior to this requirement will continue to be present on the App Store and do not require immediate updates but they will let users know that the developer will be required to provide these details the next time an update is released.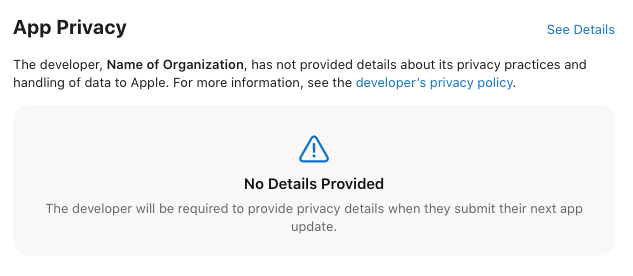 New Apps and Updates
The VisitApps team will work with customers submitting new apps after December 8, 2020, or in need of an app update, to ensure that the App Privacy information for your app is accurate and provides the most current information for your users at the time of submission. As you prepare for a resubmit, you want to make sure of the following:
You have a Privacy Policy URL that is publicly accessible.
You disclose with us whether data captured from your app is shared with 3rd parties or data brokers.
Most VisitApps customers will make use of the following Data Types:
Contact Information, used for Passport registration
Location, used for GPS based Passport check-ins
User Content, used for image based Passport check-ins
Diagnostics, used for platform performance measurement and stability measures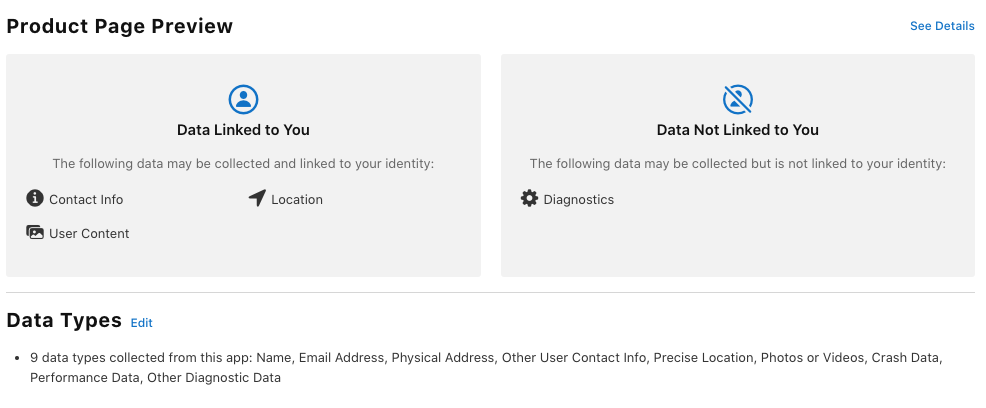 In the case of Contact Information, Location, and User Content, these are linked to individual user accounts for the purpose of enabling and participating in features like Passports. If you use these exports for additional marketing purposes, you'll want to disclose this as part of your submission process because it will impact what gets displayed on your Product Page.
3rd Party Integrations
These changes also take into account 3rd party SDKs associated with analytics packages like Firebase which is used in conjunction with Google Analytics. Features used by our platform from these packages do not require access to a device's advertising identifier (IDFA) and as such are largely not impacted by default. Customers measuring conversions and attribution through Analytics can be impacted.
Enforcement
All these changes will be enforced as part of the App Review process in the App Store and are likely to continue to evolve so we'll continue to provide guidance to our customers. If you want to get the conversation started, please reach out to your Customer Success Manager so we can best review how these may apply to your organization's needs.
Additional Resources