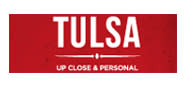 Tulsa is the cultural center for Oklahoma, with full-time professional opera and ballet companies, the nation's largest concentration of Art Deco architecture and it is also the birth place of the famous U.S. Route 66. The city sits on the Arkansas River at the foothills of the Ozark Mountains and you can't turn around without learning of an upcoming concert, festival, or the sweet sounds of live music. Visit Tulsa's new website provides a sleek view of the city, but "It's Everything Else That's Different"!
Visit Tulsa chose a Responsive website, which means that their site will display appropriately depending on the device whether on a smartphone, desktop, or tablet. The Responsive site also saves Visit Tulsa time because they only have to update one site, instead of two.
 Another highlight is the Restaurants Page. It was organized first by food category, with corresponding images, and then lists restaurants. This format allows visitors to peruse the variety of food types offered in the city before diving deeper into the listings. Visit Tulsa also included filters to give visitors a variety of ways to explore the Tulsa food scene.
The new site has also made it easy for Meeting Planners to find the information they want, when they want it. The page includes large call to action buttons, eliminating the time planners may spend looking for important details/areas to request information.