In this time of global crisis and uncertainty, we put the call out to leaders, CEOs, strategists and consultants to sit down and tell us, in their own words, what is going on and what is going to happen next in this vital global industry.
 

In April 2020, McKinsey & Company released their "COVID-19 and jobs" report, which estimated that 57 million US jobs were "vulnerable" - a term they used to encompass permanent layoffs, temporary furloughs, or reductions in hours and pay. They also noted that leisure and hospitality jobs have accounted for the bulk of the earliest layoffs in the crisis.
In July, Canadian newspaper "the Globe and Mail" reported that senior management positions have decreased by nearly 30% and mid-management by nearly 15%. The article goes on to identify that mid management meetings-based roles that facilitate moving data are particularly under siege.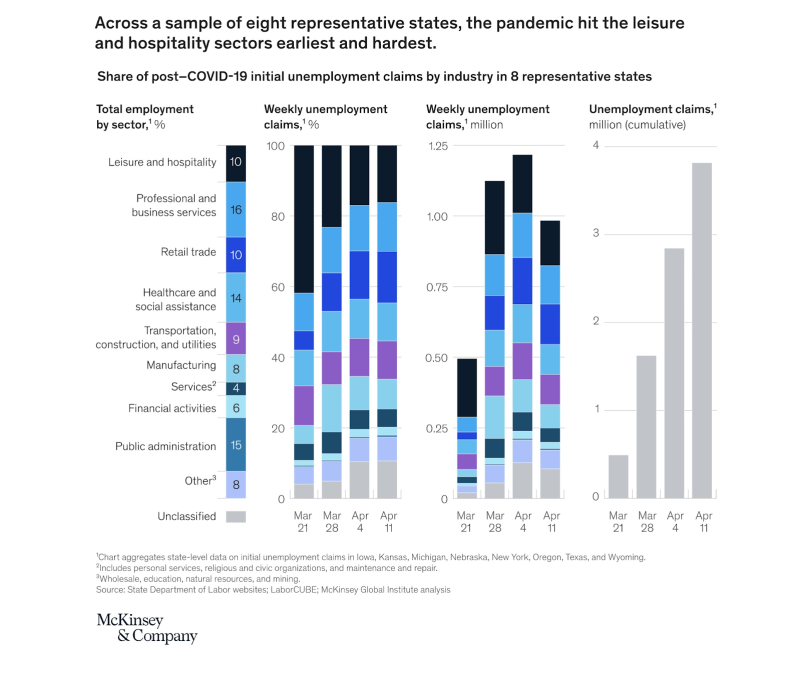 Source: McKinsey & Company
As strained budgets have forced state and local governments to cut public-sector jobs, city governments from Cincinnati to Santa Barbara have implemented furloughs and layoffs. A drop in charitable giving has hit nonprofits hard, and colleges and universities are anticipating large scale cutbacks and cost increases. And the leisure industries that we took for granted just six  months ago are virtually at a standstill.
I'm no pessimist but… looking at the next 24 months in terms of executive and management retention and recruitment in the tourism sector, one word springs to mind: daunting.
But Mike Gamble, President and CEO of SearchWide Global sees things differently. He sees opportunity for individuals and enterprises alike.
SearchWide is the executive recruiting firm specializing in destination organizations, hotels and resorts, venue management, experiential marketing, trade shows and exhibitions, as well as sports and entertainment 
Mike and his team are already hard at work understanding and implementing the changes and culture shifts that will strengthen and hasten our recovery as organizations.
There is no doubt in Mike's mind that our organizations will be different and will be leaner at both the mid-manager and senior executive levels. And while that certainly is a painful reality, we have the opportunity to get out in front of those changes now.
---
"The other piece that we're seeing is a lot of job sharing and cross training..."
---
"We are going to lose some very talented folks to other industries, unfortunately. It's inevitable," says Mike. "But let's hope they boomerang back. [SearchWide] is very involved in the 30 under 30 programs for Destinations International and IBM and what we see there is that young people want to go explore, they want to go to tech or healthcare or whatever. And now we're starting to see them boomeranging back to our industry and we can only hope that once this crisis clears that people will do the same."
"The other piece that we're seeing is a lot of job sharing and cross training," says Mike, "and I just think there's a different way to look at it." He continues, "think about the chance or opportunity you have to get one of those talented individuals to do some part-time or temp work for you as we are getting through this crisis, and what an advantage that could be. Instead of just rebuilding quickly and bringing people on full time, think about how you engage the people who are furloughed and laid off and enable their great talents."
In addition to preserving existing roles and creating new opportunities for talented individuals from both within the tourism industry and from outside, Mike also sees the likely addition of new roles at the destination management organizations.
"We're definitely seeing there's a couple of new positions that could show up on org charts of destination organizations in the future," says Mike, "I think Health, Wellness and Safety; who would have ever thought that a destination organization would have a role like that. I think that's a very viable role. And Diversity, Equity and Inclusion; of course! If the destination organization didn't have that role before boy, it is critically important now!"
In terms of dealing with your personal career path and job search, Mike has a couple of key suggestions. "The first thing is you've got to brush up your digital footprint, quickly. You have to treat finding a job like a full-time job for as much as you can each day. And the real key is genuine and authentic networking. Being able to reach out to those in your circles and just say 'how are you?' and really start the conversation; we find that when you reconnect with folks, that's where opportunities are going to come. But you have to stick with it."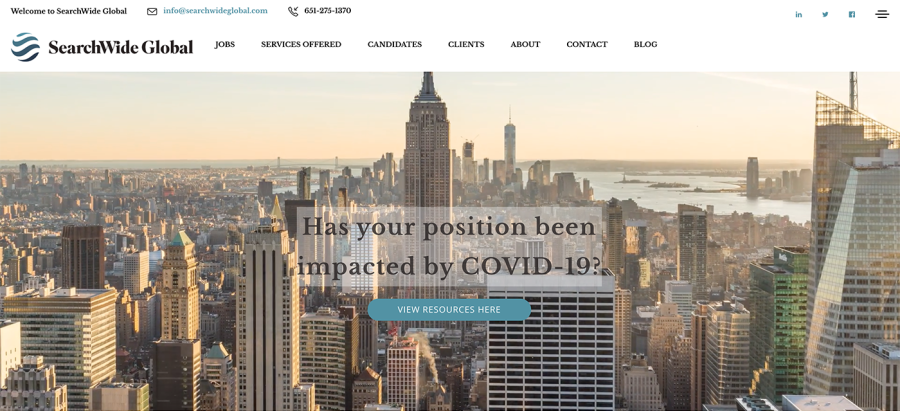 Source: SearchWide Global
And in terms of opportunity at the enterprise level, Mike sees destination organizations as well-placed to pull it all together as destination stewards and caretakers and take a leadership role in recovery plans for the destination. "I've seen some of our leaders really step up in that regard and really take this on, which I applaud," says Mike.
The future of tourism post COVID-19 will inevitably involve significant organizational changes but how we manage those changes and how we define the new role and function of our talent assets is a huge opportunity not to be squandered. Think differently.