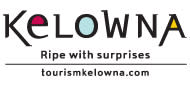 Nancy Cameron, President and CEO of Tourism Kelowna, has been named as the 2012 Business Leader of the Year by the Kelowna Chamber of Commerce in British Columbia, Canada. This award recognizes Cameron's leadership and contributions to the area's business community, as tourism is the third largest private sector employer in the city.
According to the Chamber's official statement, Cameron's "marketing savvy and astute promotional sense has allowed Tourism Kelowna to harness momentum around Kelowna's tourism attributes and to position the organization amongst Canada's advisory circle in the Destination Marketing Association Canada."
Cameron is the first woman to receive this award from the Chamber. Some of her major accomplishments for Tourism Kelowna include leading the implementation of Kelowna's two percent Additional Hotel Room Tax to help provide a sustainable, performance-driven funding source for marketing the destination.
As Tourism Kelowna is a valued Simpleview client, we are proud of Cameron and her organization's overall accomplishments. Her work to grow the DMO into a model for other mid-size Canadian tourism organizations is admirable.
For more information, read the Chamber's full press release.