Your website is the heart of most of your marketing activities. Most of your paid media and marketing activities drive traffic to your website and it serves as the primary call to action. One of the missed opportunities we often see is that website KPIs are reported in isolation from other marketing activities. You likely have different KPIs and reports for campaigns, social media, and your website. 
From talking to many DMOs around the world, we see that a common challenge is "Analysis Paralysis" from too many data sources. So today, we are going to cover three website analytic tips that you can implement now.
1. Align Ads and Website Performance
As a DMO you should be evaluating how your marketing and website perform together. If you rely on an ad agency, they are most likely to report on ad performance such as impressions, reach, clicks, and other marketing metrics. Oftentimes there is a gap between ad performance and how it translates to website performance. 
At minimum, you should be able to analyze what advertising sources are driving traffic to your site and what those users are doing once on your website. This will provide insights on the effectiveness of your advertising and driving qualified audiences to your website. 
Establish Benchmarks
There are vastly different behaviors from channel to channel, so it's important to measure performance by channel and create your own benchmarks for each. These benchmarks should become your baseline for analyzing performance and optimizing investments. For example, if the bounce rate or time on site is lower than normal, what could have caused this? Was it seasonal? Was it the ad targeting strategy? The messaging?
In the example above, the destination can measure the value of each medium against the number of Hotel Partner Referrals. This is an example of a simple benchmark for the Cost Per Action (CPA) that can be used to compare future campaigns.
 

In the example above, the destination can measure the value of each medium against the number of Hotel Partner Referrals. This is an example of a simple benchmark for the Cost Per Action (CPA) that can be used to compare future campaigns. 
2. Define and Measure Value From your Website
Getting traffic to your website is a starting point. What that traffic does on your website is even more important. This is where you can better define the value your website provides. We've categorized website actions into two categories that offer different value:
Website Engagement
Website Engagement metrics indicate how your content is being consumed. Website engagement is generally earlier in the consumer's path to purchase. The value of website engagement is that you are inspiring and informing people to visit your destination. Examples of engagement metrics include: 
Bounce Rate
Time On Site
Pages Per Session
Website Qualified Actions
Website Qualified Actions can vary from website to website but typically represent consumer actions later in the path to purchase, or offer repeat marketing opportunities. Generally these metrics show a much higher interest or intent to visit your destination. Qualified actions include metrics such as:
Email Signups - Additional touch point
Partner Referrals - Value to partners 
Online bookings or sales - guaranteed revenue
Visitor Guide Requests - Intent to travel
These actions and activities should be clearly defined as part of your website KPIs. Once they are defined, you can look at the impact each of your channels is having on driving value.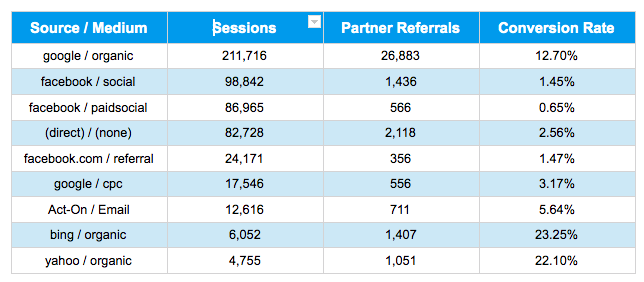 In the above table you can see how organic channels have the higher partner referral rates. Using this information for your paid activities can help optimize your ad spends, particularly on lower funnel channels such as Paid Search.
3. Report Performance by Device Type - Mobile, Desktop, Tablet
Consumer behavior on websites can vary greatly by device type. The last few years have seen explosive growth in mobile; however, mobile users tend to have a higher bounce rate, spend less time on the site, and engage with less content. This has likely resulted in some of your conventional metrics becoming stagnant or declining. 
When reporting your performance measures, you should break them out by device type (as illustrated below) to get better insights into what is really happening across devices. 
 

In the above example, you can see how the bounce rate on mobile is almost double that of desktop, and the partner referral rate is significantly lower than desktop and tablet. In this situation, mobile traffic is 70% of the sessions, but only 34% of the partner referrals. The recommendation would be to optimize the mobile experience towards your objectives, which in this case is partner referrals.
Data and analytics are constantly evolving. And while the number of marketing channels and performance reports are constantly expanding, your website is the heart of your marketing program and you should evaluate its performance accordingly. Don't settle for only top-level "website" metrics, but rather find ways to evaluate how your website works in conjunction with your advertising data to better measure the value you're creating to your destination and stakeholders.