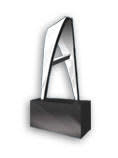 Simpleview is excited to announce that three of their clients have received 2012 Adrian Awards from Hospitality Sales and Marketing Association International (HSMAI) for their website launches.
The Utah Office of Tourism and the Macon-Bibb County Convention and Visitors Bureau (CVB) received Gold Awards for their individual sites - VisitUtah.com and MaconGA.org, while the Oklahoma City CVB received a Bronze Award for their new site - VisitOKC.com. Each site was a collaborative effort between Simpleview and the DMO's staff.
Rick Vaughan, Vice President of Sales and Marketing for Simpleview, said these three clients share a common theme of overcoming stereotypes and pre-conceived notions about their destinations with their new websites.
"Oklahoma City, Macon and the state of Utah are all wonderful places to visit and our winning DMO clients worked with us to accurately emphasize the best parts of each destination," he said. "All have seen an increase in web traffic and reported that visitors are able to find the information they need more quickly than before."
These awards, which are one of the most prestigious honors in the travel and tourism industry, recognize notable industry advertising, digital marketing and public relations over the past year. The winning clients, as well as all the other 2012 recipients, will be honored at the Annual Adrian Awards Dinner Reception and Gala on Jan. 28, 2013. The black tie event will take place at the New York Marriott Marquis.
Simpleview will be posting full case studies of each winning project on their company blog. Visit www.simpleviewinc.com/blog for more information on each site's development and design process.
About Simpleview
Simpleview helps destination marketing organizations (DMOs) succeed on every front, from convention sales to tourism marketing and day-to-day operations. The company offers integrated products and services, including the industry's most advanced customer relationship management (CRM) and content management system (CMS) platforms, powerful forecasting and reporting tools, dynamic websites, sites for mobile web, search engine optimization and interactive marketing. Founded in 1991, Simpleview employs more than 100 people with offices in Arizona, Texas, Minnesota and California who serve more than 200 domestic and international DMOs. For more information, visit www.simpleviewinc.com.
---
Media Contact: Sam Brace
Communications Manager
(520) 575-1151
sbrace@simpleviewinc.com