"Because, you know, as they say ... 'Sales sells the dream. Services delivers the nightmare.,'" said a presenter at the Event Services Professional Association's 2017 Annual Conference in Austin, Texas this past January.
The room, full of so many hard-working and dedicated event services professionals I've met or have worked with over the years, erupted in laughter. I was baffled, at first. Why would they say that? That's awful, I thought.
Then I discovered that this is a saying that has been applied to all sales-to-services handoffs, regardless of industry. The running joke. The one every services team has to prove wrong and instead, deliver the dream.
Over the next few days the ESPA conference dialogue focused on how the world of services tirelessly works to deliver the ideal vision for each event and meeting. I was lucky enough to be allowed to be a part of their conversations, and here's how our CRM team is helping to support the realization of these goals, the delivery of the dream.
1) We're Listening to You.
We're continuing to get to know you inside and out. We're always listening and learning to keep on top of what Services teams do every day, for every event, for each client, within each organization. Conferences like ESPA give us insight into your world, your meeting-to-meeting needs, your customers' needs. CRM user group members tell us how the CRM needs to make your job more efficient and your results more successful.
2) We're Fine-Tuning CRM Training to Your Needs.
How can you be completely successful if you don't know what you don't know? This question came to me when I attended ESPA in 2016, during a post-conference Simpleview CRM session. At this session, I presented a list of services-oriented features and tools within the CRM, with plans to cover just a handful of them in depth. The minute this slide went up, the eyes in the room took on a look of surprise. The attendees did not appear to know that there were this many services-oriented features within the Simpleview CRM system.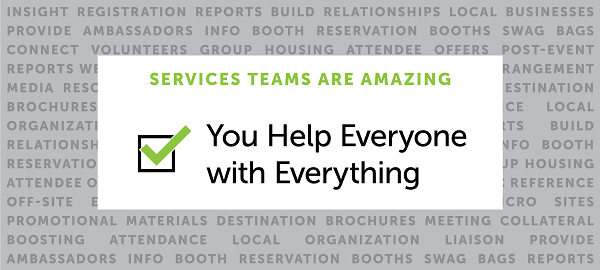 I knew we needed to make sure service teams knew the breadth of resources available to them, and to deliver services-oriented training on how to use them. We had a brief discussion on some of the attendees' key interests and I collected cards from everyone who would be willing to discuss the needs of services teams more over the year.
Coming away from the 2016 conference, we knew we had to:
Review our training and documentation offerings to see what topics we could cover with a focus on services
Review our session offerings at the 2016 summit to provide more services-focused trainings
Create a longer services-focused on-site training for subsequent years
I'm happy to say that in 2017, our Marketing team and CRM training team were able to schedule and deliver a day-long Simpleview CRM training to a packed house of services folks ready to learn. We covered everything you need to know to maximize your CRM in order to streamline your day-to-day operations. We discussed how to partner better with your partners and connect visitors to local businesses; how to secure and track venues and manage post-event information collection and surveys; and best practices for managing registrars, tasks, schedules, and reporting. And we have plans to deliver a similar training in 2018 for those of you who were not able to get on the list this year!
We also were able to add more sessions in our 2016 and 2017 Summits that focused specifically on Services and their tasks. Take a look at this year's summit schedule for details on services sessions.
Post-Summit, and moving further forward into 2017, we plan to provide more webinars, documentation, and additional training items that will help Services teams use their existing Services tools and features within their Simpleview CRMs. Keep an eye on your client portal for more details.
3) We're Listening to Your Customer: Meeting Planners
ESPA included a great session in which a panel of Meeting Planners answered questions that the group posed regarding several aspects of the CSM/Planner relationship during the course of planning and executing a meeting.
So what do Meeting Planners most appreciate when working with DMO Service Managers? And how can your Simpleview CRM help you manage meeting these needs/wants?