We're moving beyond email marketing in the third installment of our blog series on marketing automation, a discipline relatively new to the DMO space. If you have recently purchased a license to use a marketing automation platform, please know there's much more to the platform than just sending monthly emails.
We've put a list together of a few basic automated programs you should consider adopting and begin executing.
1. Re-engagement Campaigns
Automated re-engagement campaigns can help you identify those customers who are no longer opening emails or visiting your website. By setting up a simple re-engagement drip campaign, you can send out several emails over the course of a few weeks—or even months—to try to get these customers interacting again with your DMO. It will be up to you to determine what defines an engaged contact and one that's unengaged.
Your program could be something as simple as determining that anyone in the last six months that has not opened your email is added to the automated program. During that program, they are sent a series of emails.
The flow would go a little something like this: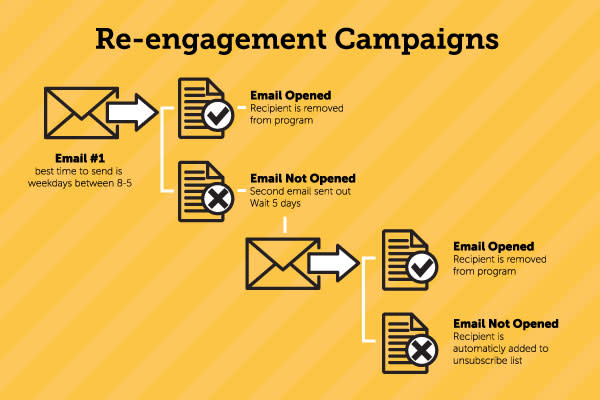 The first email is sent out. If a subscriber opens it, s/he is removed from the program. If the subscriber doesn't open it, you should wait a series of days before a second email is sent out. If the recipient opens the email, then s/he is removed from the program. If the recipient doesn't open it, then s/he are automatically added to the opt-out list/unsubscribe list.
In the emails you create, you'll want to have recipients perform a task. This task could be something as simple as visiting content pages on your site such as blog posts or having them update their preferences with interests by filling out a new form. You can then use this data for targeting during future interest-driven campaigns.
2. List Maintenance
If you've run email campaigns in the past, you likely noticed that all email marketing platforms provide the ability to manage opt-outs (unsubscribes) and hard bounces. You may have wondered what happens to those subscribers who are not opening your emails. We're not talking about the folks who may have missed an email here or there. Instead, we are talking about those who signed up several months ago and have yet to open one of your emails. They are highly unlikely to ever open your emails again.
This is where a semi-annual or annual list maintenance program can help you keep your email marketing house in order. By opting-out/unsubscribing those who are not showing interest, you forgo continuing to send emails to inactive contacts that can skew data and paint an inaccurate picture of your email marketing efforts.
For example, if you are sending emails to 10,000 contacts each month and only 200 contacts are opening them on average, your open rate would be a small 2 percent. In this instance, it behooves you to focus on the 200 who are opening your emails and send only to them moving forward. This approach will help your open rates move from 2 percent to much higher 70+ percent rates. Remember, place the premium on quality over quantity.
3. Welcome Emails
Typically, a person who fills out a form requesting more information from your destination is engaged at that moment and should be followed up on in a timely fashion. Setting up an auto-responder email to provide that subscriber with additional information about your destination or processes is easy, and helps them stay engaged longer.
These emails need not be long and can be part of a much larger campaign. Start with a simple message such as "Thanks for subscribing. Here are a few of our favorite things to do," and include a list of favorites that reflect the contact's interests from the form they filled out. You can also include upcoming events or any other time-sensitive information. If you use time-sensitive information, please make sure to update those automated welcome emails to keep information fresh and useful to the users.
Nor do your automated programs have to be complicated. Identifying the time-consuming, yet necessary, marketing tasks on your to-do list and automating them will help return time to your day. Please note, however, much of the behind-the-scenes planning and task set-up with marketing automation will not eliminate the human factor in your marketing efforts. The time saved with automating repetitive tasks though will provide you more time to focus on creating personalized, customer-driven experiences that drive engagement, campaign conversions, and ultimately, arrivals to your destination.
To learn more about Simpleview's marketing automation services and strategies, please reach out to your account manager or marketing automation specialist.