This year has dealt a huge challenge to the meetings and events industry. For us, this means continuing to adapt and grow our world-class tools to use data more effectively and refine our systems for greater efficiency to help our customers during the recovery and beyond. One perfect example of this is MINT+.


What is MINT+?
MINT+ is a robust industry solution serving as the world's largest meetings history database. Over 130 convention and visitors bureaus (CVBs) contribute booking and history data to MINT+, positioning these sales professionals to be more intelligent prospectors, better serving meeting organizers and enabling them to meet their booking goals.
What's new with MINT+?
In case you hadn't heard, in early 2020 Destinations International announced a joint venture in partnership with Simpleview to enhance the current tool and build a new visionary project for the industry. 
Since the announcement, we've been at work developing enhancements. Here are some of the features already released, or in the works for summer launch:
Expanded data | Thousands of existing records have been enhanced with new data fields, and we're working on adding data for nonprofits, athletic clubs and sports associations.
Improved user flow | We've added detailed user tracking to understand how users navigate the system in an effort to create a better workflow and improve user engagement.
Better CRM integration | We've added a new "Bookmarked Organizations" and "Bookmarked Meetings" feature to enable easier import of data into CRM.
Updated system look | The user interface was updated in May to improve usability and navigation, while adding space for new features.
Event Scoring Profile | This proactive event scoring tool will be added to MINT+ as a free integration to help customers identify the best events for their destination in any given time period.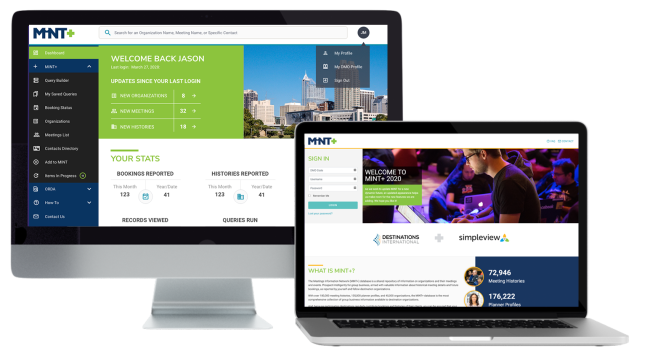 We are thrilled for the future of this powerful database and tool and know how integral it will be for destinations in our industry's ongoing recovery. To learn more, reach out to the MINT+ team by filling out the form below!