Do you accept the challenge?
Going to The Email Design Conference (TEDC) by Litmus this year was like being selected as a participant on ABC's Extreme Weight Loss. And I know what you are thinking, but stay with me and I promise it will all make sense.
Each show starts off with trainers Chris and Heidi Powell talking about one person, one year, and one amazing transformation building to the time when that person will be revealed. Well in this version the Litmus crew were my, unknowing, trainers through my email transformation and you guessed it - it's about me.
Next we are told that this is going to be the most important year in someone's life and ordinary people don't do this stuff - extraordinary people do. Well for me it was three days and of course ordinary people don't do email - they can't. As Kevin Mandeville from Litmus said - "Being an email designer is like being in prison - stuck in cells all day." If you did not laugh then you must not be an email designer and point made.
Confessions and revelations:
Normally the next step would involve a very large scale, crying, and confessions; however, instead, we were entertained by Concur's TripIt Elisha Haidt who told us that every email you send needs to pass the "so what?" test to make sure it contains relevant information for your subscribers. And that, for the most part, customers love us - so don't annoy them by sending irrelevant emails. Uh oh - I bet some of my emails have not passed that test - I guess it's to the Litmus Community for me!
Part of the training takes place in Denver, but for me it was Boston, Massachusetts - home of Paul Revere, Harvard, the Red Sox, New England clam chowder, and Harpoon beer. It is also where I learned that quality trumps the send of the email and to truly understand your email you have to go beyond just counting opens and clicks, but evaluate where the clicks are and then optimize your email design to improve.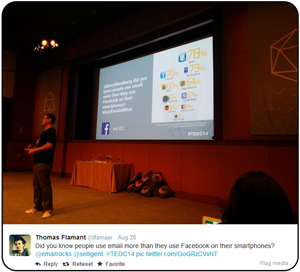 Demanding respect and the hybrid email:
For the next portion we were one of the same minds. In order to be successful we need to be willing to create new patterns and live life in a completely different way. Um, yeah. And how that relates to email is to create a process - a real good one. 
Jay Juhn
 from BrightWave and 
Megan Merrifield
 from Gulfstream Aerospace took us through the process of writing a creative brief - but for an email. And I'm not sure if this is their intended takeaway, but my favorite part was when they told us we need to demand more respect as email designers. And you can only move as fast as everyone else. This statement completely blew my mind and opened it up to take into consideration all the other people who are involved in each email - not just the email part.
As the show moves through the 365 days so does my 72 hours which brings us to the life-changing challenge. But, my challenge actually took place a day before TEDC started when I attended the Advanced Workshop. I had no idea what to expect other than that they were going to cover things that I did not know how to do. Well - if you have never gone through code with Fabio Carneiro from MailChimp at a pace of a million words per minute then you really have not lived. All joking aside we learned the "hybrid" (what is that other name they were using?) approach of email which is mobile friendly in Gmail and Yahoo! without using media queries and works everywhere else (amazing, just amazing). Because if you did not know; Fabio is the genius behind all the MailChimp emails.
Making it in the real world:
Just like the weight loss participants, after my time in Boston I was sent home to see if I can make it on my own armed with the knowledge from TEDC. Did I lapse? Have I been able to apply what I learned? Do the other people around me get on board and use all the tools and support that I was given? Well, I have to say - kinda? I definitely have taken the code tricks and already used them, like display: block on tables and some fun Outlook stuff. Additionally, I am spreading the good word about CTA's (call to action) and how they should be clear, used once, and not placed all over your email. And if you are going to place social media icons on your email limit those to TWO that you can prove are popular - oh and also pair them with a CTA; letting me know why I should click on them. Don't just have a bunch of logos at the top/bottom of our email doing nothing.
There is also always a celebrity who shows up to help you see the light about taking the program seriously and at times puts some fear in you. Well, my celebrity was Vicky Ge from TASER International who has actually been tased (that's the celebrity part) - and lived to tell about it! She let us know that we need to use data to inform, and not dictate, what our email goals are; however we must have a goal or aren't we just sending spam? Are we? Should we do an A/B test on this to find out?
The emotions of email:
At the end of the show there is always the big reveal with Chris Powell saying; "She sure does not look like that anymore!" and everyone shouts and claps. My reveal? I'm living it right now. Have I been successful in passing on any pearls of wisdom to you, dear blog reader? Have you understood how special email is? How it is the only true one-to-one platform where you can have a relationship with your audience and speak to them on a personal level? That a great email evokes emotion and has your audience waiting for the next one? Email does not have to be so transactional - it would be nice to breathe a little life into it from time to time (thanks Jason Rodriguez and Kevin Mandeville from Litmus).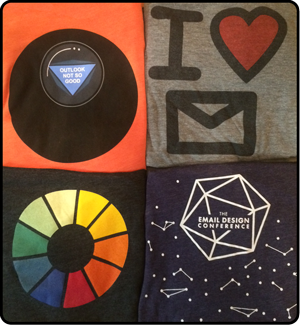 Pay it forward:
And then just when you think it is all over, the participant is able to "pay it forward" by selecting one person to give a free week at boot camp to someone who they feel really deserves it at that time. What do I think y'all need? The Litmus blog post from Lauren Smith; "Tweets, Takeaways, and Tips from The Email Design Conference 2014." It is my way to pay it forward as there are links to everything mentioned above in the title - and more!
Lastly, I get my time to reflect about my experience. Would I do it again? Definitely (this is my second year)! Do I think the sessions provide value and takeaways for real-life application - yes! Would I tell someone else to go - of course! And not to mention the swag! "I Love Email" shirt anyone? What about a magic 8 ball that displays; "Outlook not so good" - amazing! Can't wait for 2015!
If you are interested in email and would like to know more, please feel free to follow me on Twitter. But I do warn you, musings on beer, Bravo TV, food, and puppies/kitties are thrown in as well from time to time.