An impact analysis drawing on aggregate CRM data from a representative sample of 200+ US DMOs
Last week, Bill Simpson, our Chief Technology Officer, joined me in a webinar presented by Destinations International, sharing our industry's first solid data offering a high-level view of how the COVID-19 pandemic is affecting confirmed meetings and sales leads.
Our goal is to present reality as shown by the numbers -- knowledge is power, and our industry can best respond to this crisis with the objective understanding that only data offers. 
At the same time, we're optimists. In analyzing the data, we're also looking for silver linings, indicators of recovery and -- always -- reasons for hope. 
Room Nights Data Sample Set
Our first analysis used room nights as the key performance indicator, looking at data from US DMOs that use our CRM platform (420 of 643 worldwide) and met 2 additional criteria:
Had meetings data for the window 1 Jan. 2019 - 5 April 2020 
Had a material number of bookings with peak room nights of 10+ inside that window
This filtering yielded a sample set of 257 DMOs of all sizes, including 34 of top 50 meetings destinations in the US (per Cvent). 

Using DI's Sales Channel Impact Study (2015) as a benchmark, this sample set represented 67% of DMO-influenced room nights, giving us confidence in both its size and representation of the US market. 
---
Room Nights Analysis: 257 US DMOs representing 2/3 of DMO-influenced room nights
---

2020 Was Outpacing 2019 by Roughly 2%
2020 started out as a phenomenal year for meetings and events. As of 1 Feb., the sample had 468,000 more room nights on the books compared to the same time last year (STLY). 
Extrapolating from that to the nation as a whole, it's reasonable to infer that as of 1 Feb. 2020, the US meetings industry was looking at nearly 3.5M more room nights over 2019 bookings, a 1.8% increase year over year. 
 
Sharp Drops Hit March Through May
That story reversed dramatically in March 2020, when confirmed room nights suddenly dropped to less than half of 2019 levels. Data shows this trend continuing through May, with the deepest cuts in April. 
For the year as a whole -- again, looking at room nights on the books as of 5 April -- the data shows recovery beginning in June, with 2020 once more overtaking 2019 levels by August. 
As such, our sample showed 5.7 million fewer confirmed room nights on the books as of 5 April 2020 compared to 5 April 2019. This amounts to a 13.8% drop compared to confirmed room nights as of 1 Feb. 2020. 
Extrapolating to the national level, the data suggests that as of 5 April 2020, US destinations had 32.5 million confirmed room nights on the books vs. STLY -- a 14% decrease.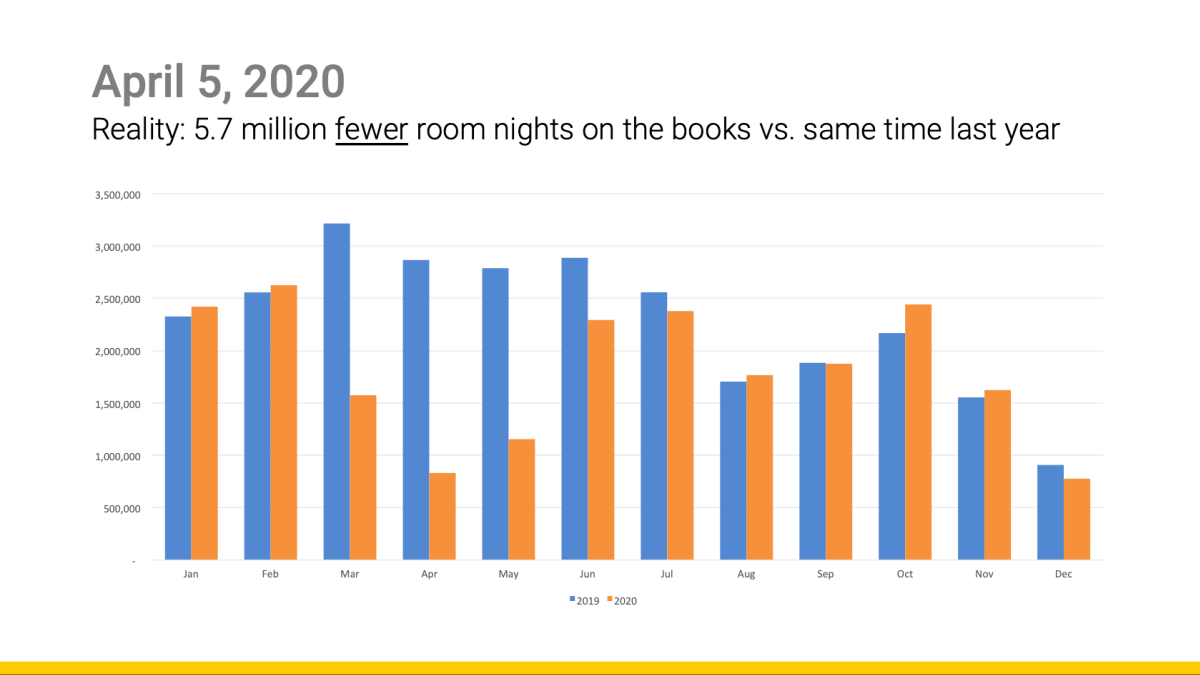 As of April 5, the sample set had 5.7 million fewer confirmed room nights for 2020 compared to 2019. 
Postponed vs. Canceled Events
Diving deeper into these numbers, our data show that the vast majority of lost business has been logged as canceled events: 464,000 room nights postponed, 5.7 million canceled.
---
Changes in Room Nights as of 5 April 2020
464,000 Postponed | 5,654,000 Canceled
---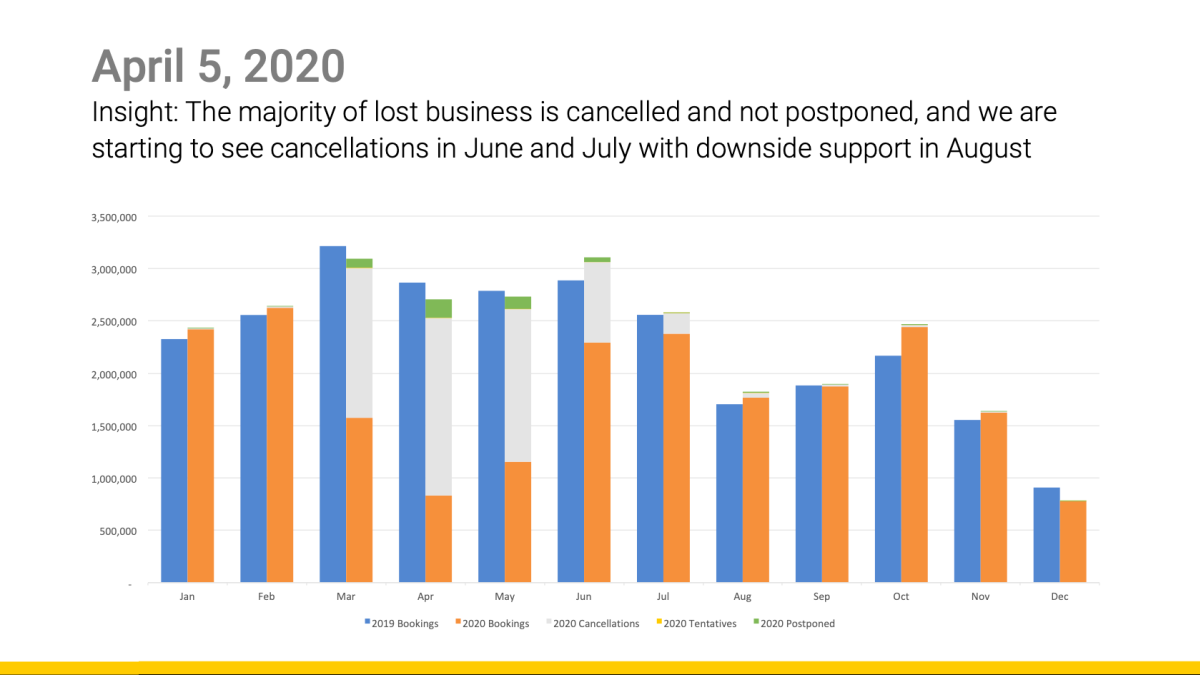 Closer analysis shows only 7.6% of lost business has been logged as postponed: 464,000 room nights vs. 5.7M canceled. 
Three things to note on findings around postponed vs. canceled events:
This early analysis shows postponed room nights moving to the second half of 2020, creating compression in some markets
While our data show July and August holding up relatively well, we're aware that some survey data indicates that some DMOs are seeing cancellations and postponements impacting events that had been booked for these months. 
Finally, it's important to note that DMOs handle postponed vs. canceled events in different ways within CRM (we've documented 6 approaches so far!). We're currently working with customers to together establish best practices for a range of these scenarios.
Leads Follow the Same Pattern
In a third analysis, we looked at all leads assigned "Tentative" status as of 1 Jan. 2017 or later, starting with our sample set of 257 DMOs. 
Layering on a new criteria for DMOs with at least 10 tentative leads yearly (2017 - 2020) and re-applying the "complete data" criteria for this longer window resulted in a subset of 225 DMOs.
 
---
Lead Generation Analysis: 225 US DMOs
Leads assigned "Tentative" from 1 Jan. 2017 on
---
Here again, 2020 was off to a fantastic start, with leads through the first ten weeks of the year outpacing each of the prior three years and up 10.9% compared to 2019. 
On 11 March 2020, the World Health Organization declared the COVID-19 outbreak a pandemic. That week (8 - 14 March), lead volume began to drop sharply, eventually dipping below even 2017 levels.
Watch for New Data & Analysis Weekly
We'll continue to report on this data weekly, with a goal of not only giving the industry solid data to work with but also "calling" the bottom and early indicators of the comeback for travel and tourism.
While experts project that things will get worse before they get better, we know that people are already dreaming of traveling again. Those dreams will become plans, and plans will become bookings. 
The instant we see the start of that turnaround in the data, we will broadcast it loud and clear. Stay tuned!