One of the greatest benefits of being a Simpleview employee is our Personal Education Development (PED) Program. Every year, all eligible Simpleview employees get a $2,500 allotment that we use for classes, events or education that enhance our performance or develop our skills for our role at Simpleview. I was very fortunate to use my PED benefit this week to attend Content Marketing World in Cleveland (#CMWorld). Speakers at the conference included top marketing minds from companies like GE, Kraft, HP, Coca-Cola and many others.
Andrew Davis, author of Brandscaping: Unleashing the Power of Partnerships, kicked off the event with a rapid fire presentation that demonstrated how dramatically the thought process of customers has changed and how organizations need to be less concerned with what we are offering on our websites, but rather what content are we putting "out there" in blogs, social media etc., before visitors ever make the decision to go to their site. He gave real world examples of how brilliant storytellers create sharable, inspirational content that drives revenue.

Julie Fleischer, Director of Data, Content and Media for Kraft foods shared her expertise on how Kraft Foods unites all marketing content from advertising to media and consumer engagement to consumer insight. I personally have bought Kraft products after using their recipe website to try and figure out easy, last minute dinner ideas for my family. Every week I find in my email inbox personalized suggestions for dinner based on the past recipes I picked.

Katrina Craigwell, Global Manager, Digital Marketing for General Electric discussed how GE found success (and challenges) telling the GE story in unique places such as Instagram, YouTube, Tumblr and SoundCloud. She showcased a YouTube video of how GE invited DJ's to sample sounds from their plants to create free downloadable custom dance tracks and bring more awareness of the GE brand to the general public. Visit https://soundcloud.com/generalelectric to listen to the amazing results.

In a session titled, Data, Digits and Dummies, marketing guru Scott Stratten used humor to challenge attendees to think differently with the reminder that no one cares about "your crappy corporate video" and that "every time a marketer uses a QR code a kitten dies".

A few key points resonated in nearly every session I attended. 
 
Marketers must use data from their CRM at all phases and stages of any marketing project. If you are ignoring what the data in your CRM is telling you, your campaigns are going to fail.
Find impartial influencers; people outside of your organizations that are passionate about what you do (or in our industry, about your destination) and arm them with everything they need to tell your story.
Quit bragging. No one cares about how great you are; what customers care about is how you are going to make them feel.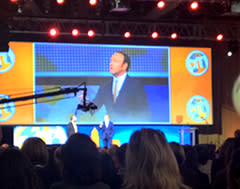 The highlight of the event and the coolest part of the convention was easily our closing keynote speaker, Kevin Spacey. In his address to the attendees, he talked about how his House of Cards series on Netflix is setting new standards for content creation and distribution. Mr. Spacey also shared his ideas on the future of content, and what marketers should be thinking about right now to take advantage of the swing of content power.

While the conference attracted over 2500 attendees from 50 countries, travel and tourism was definitely under represented at the event. I can only think that it must be due to a lack of awareness of the great educational content and networking opportunities it presents. I would highly recommend this event for any destination marketer who wants to gain a ton of valuable knowledge condensed into a two day period. It will be held in Cleveland (a Simpleview customer!) again next year. For more information visit, www.contentmarketingworld.com.