Over the last 12-18 months the digital landscape has evolved in many ways. First, Google made several big changes that made having a solid SEO and paid search strategy more important than ever. We've seen updates to organic search results, the removal of right side ads, moving to a mobile-first index, penalizing certain interstitials, and even Google Trips - the list goes on and on. With this evolution came the need to restructure our department to better serve DMOs across the entire digital marketing ecosystem.
This change also brings a brand new Summit learning experience designed, developed, and presented by our Digital Marketing team. The week will be packed with trainings, keynotes, and round tables with tons of new industry trends, product announcements, and fun! We're even doing a cool social media contest, so be sure to attend our sessions on Wednesday for more info!
Keeping up with Google & User Experience Tips
Monday - Sandee Jordan, Director of Content Marketing, will be discussing how to go beyond the normal user experience. She will discuss how DMOs can leverage tools already at their disposal in order to reevaluate content structure, navigation, and colors and how these affect the user's experience. She will also be discussing how to understand what Google is looking for by explaining the most up to date best practices and how to combine research and content creation to earn more traffic and site engagement.
Focused Messaging & Successful Digital Marketing Campaigns in the Age of Information Overload
Tuesday - Jason Swick, Director of Digital Marketing, and Scott Stanislav, Senior Director of Account Services, will be presenting a keynote that cuts through the cluttered world of Digital Marketing to help you focus on what really matters to your website visitors and potential travelers. By asking five critical questions every destination marketer should know how to answer, Jason and Scott will help you refine your marketing strategy, illustrated by the latest stats, trends, and examples, and prepare you for the road ahead.

Around the Digital Marketing Cycle We Go!
Wednesday - The Digital Marketing Department will be presenting their own track with six sessions throughout the day. The theme of the topics will be the Digital Marketing Cycle and how DMOs can use each of the steps to best market their destinations. Topics will include Research, Content Creation, Optimization, Amplification, Testing, and Measurement. These sessions will provide tips, tricks, and best practices for destination marketers to better market, inspire, and engage with travelers planning to visit your destination. You can see how each step of the digital marketing cycle aligns with our department's service offerings in the graphic below: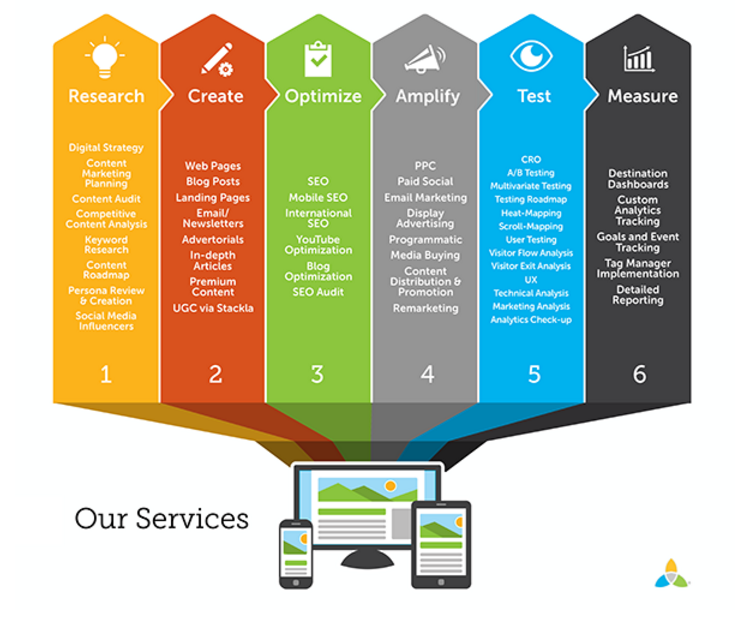 To view the full 12th Annual Simpleview Summit, please visit the 
interactive schedule
 or download the brand new Summit app brought to you by 
VisitApps
, for iOS and Android devices.