SimpleNew
I heard the music as I approached the Tucson Ballroom with my laptop and Starbucks. It was loud and energizing ... but I'm pretty sure it was too early for strobe lights, even in the darkened room. (Just sayin, Party People.) To be fair, maybe I just hadn't had enough coffee yet.
I couldn't help but get a little excited entering the room, though. It was so full of attendees, there were already people standing in the back. The room was dim, but the stage backdrop was vibrant and colorful. And the music was fun.
Plus, in a few minutes, it would be "the Ryan and Greg show". I'd heard about the Ryan and Greg show. Ashley White, Beaumont CVB's Digital Communications Manager is a fan of the presentation historically delivered by Simpleview CEO Ryan George and VP of Sales & Account Services, Greg Evans.
"They're funny. They epitomize the Simpleview family," she'd said of the two.
I'd heard enough stories and worked enough with Greg and Ryan to expect at least a little humor, and certainly a lot of enthusiasm. Because I'd heard some exciting new products and services would be rolling out. While it might be called the Ryan and Greg show to veteran attendees, it was technically called SimpleNew. This is where the anticipated advances and updates, requested features and services, and innovative new solutions would be unveiled.
To quote Ryan, (later in the presentation): "Woot woot!" (Yes, he promised to never say that again.)
But I'm getting ahead of myself. First, Ryan opened with some good news and shared successes. 
538 clients
371 CRM
205 CMS
30 CRM Only customers moved to Simpleview's fully integrated solution  
DTN delivered $2,149,072 back to DMOs in 2016
And delivered an average DMO revenue of $19,800/yearSimpleview provided hands-on trainings in 90 destinations, across 31 states and 7 countries.
Our Experience Design team designed 71 sites, with quite a few award winners among those numbers.
We hired our 200th employee! We've come a long way from the original 4. 
 
---
Woot woot! ... I won't say that again." ~ Ryan George  
---

Then he dove into the details on last year's Q4 OnceThere partnership and BlueBridge acquisition. Both offer DMOs some exciting new opportunities we've never offered before.
The OnceThere partnership allows DMOs to offer local attraction/activity booking through the DMO website, the visitors center, or a mobile app. You can leverage your local partnerships and generate revenue in a whole new way.
The BlueBridge acquisition brings DMOs VisitApps, mobile travel and event applications that engage in-market visitors and help promote business for your local partners and members. Because if you're trying to reach travelers every step of the way, shouldn't you be as mobile as they are? [You can learn more about Weaving Mobile Apps into Your Digital Marketing Mix in our blog about the Summit session of the same title.]
Then Greg joined Ryan on stage. And I can't seem to un-see this: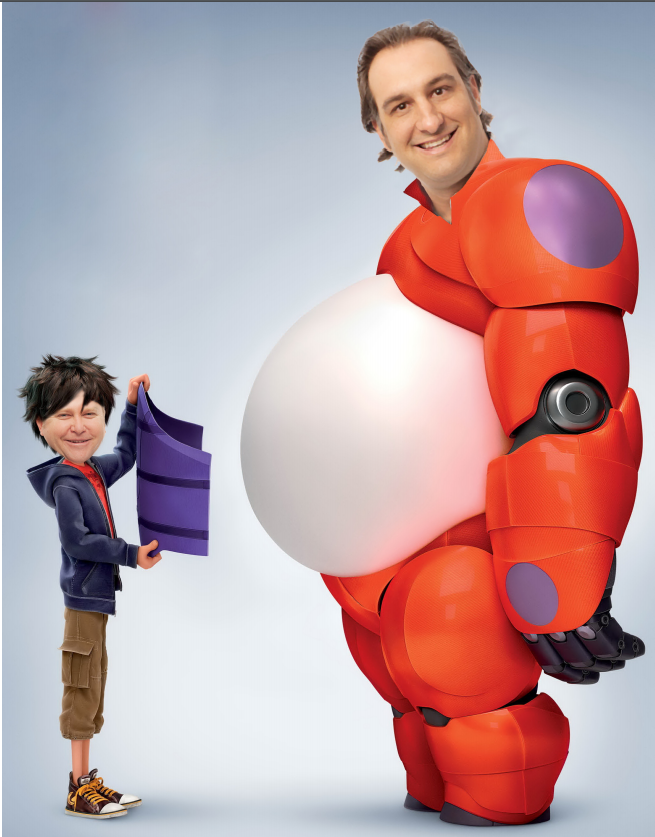 Fortunately, there were plenty more exciting insights shared in between the witty banter volleyed back and forth on stage to distract me from that image.
Like the key message from Ryan that 2017 is going to be about personalization ... leaving your digital fingerprint.
Then came the really exciting details: how Simpleview is going to help DMOs make a real impression, tell their story, leave their digital fingerprint. And then the solutions were in the spotlight: 
Simpleview Now Offers Extended Digital Marketing Services for DMOs
Simpleview's Search Engine Marketing department has evolved into an even bigger and better Digital Marketing department, offering services based around a 6-step cycle.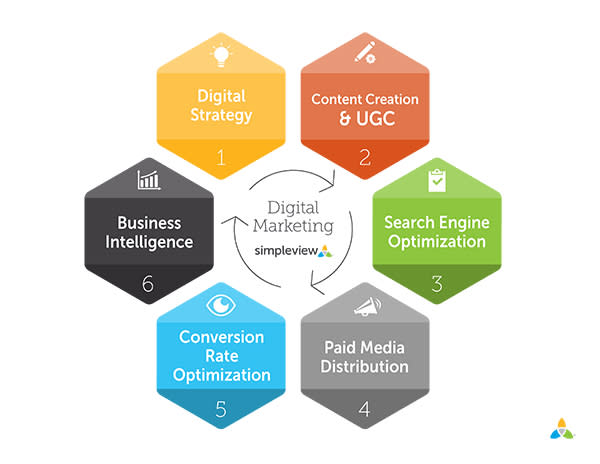 This new team can help you find and tell the
unique local stories
of your destination on your website. They can also help you harness the power of social media through the strategic use of
User Generated Content
(social media content).

We're Out to Get You Certified
... for really knowing your Simpleview stuff. Simpleview's Product Education department is truly kicking it up a notch in 2017, making sure DMO teams have everything they need to get the most out of Simpleview tools and services in order to achieve maximum success in meeting their goals. They're starting with webinars. With an average of 76 registrants at 2016 SimpleFeed webinars, and a record 208 people registered for the CRM SimpleFeed webinar in October 2016, the product education team wanted to make sure this venue was offering all it could to participants. A new question and answer format will now let webinar registrants not only get training, but have specific questions answered live during the webinar.
In addition to this news, it was announced that a new learning management system will be launching in late 2017 for increased ongoing education opportunities for DMO teams. This system will include simple online certification programs that will help you demonstrate increasing levels of knowledge and experience with Simpleview platforms. It's a great opportunity to show what you know, to management teams and stakeholders.
CMS Enhancements Continue
Additions to CMS modules are helping DMOs optimize their website content to better reach the right audiences. Personas have been added to the Dynamic Content Module for more targeted audience engagement and Public Relations Module upgrades allow for richer content and feed subscriptions.
Meanwhile, UGC updates such as visual recognition and geo-radius content are helping DMOs with these packages harness the power of user generated content on their destination websites in even smarter ways.
---
"I don't do the Facebook." ~ Greg Evans (Well, Simpleview does.)
---
The CRM Situation is Impressive
Greg talked CRM feature enhancements, including updates to the extranet and calendar of events, member/partner and sales and services sections, visitor services, plus new reports.
MeetingMax efficiencies are making the job of meeting planners less repetitive and time consuming. And ... drum roll, please ... the full reveal of the Simpleview/Cvent integration took place during the opening session, with detailed information on how this solution will benefit all parties. The announcement was received with a great deal of applause from the industry professionals in attendance.

A new CRM service called Marketplace, available within the Marketing user group in the DMO's CRM, allows DMOs to build forms (the first one is free, additional are paid) to help facilitate partner engagement, streamline data collection, and simplify online payments. DMOs can easily promote packaged service opportunities, like participation in Restaurant Week promotions, and collect updated Visitor Guide information with easy-to-configure digital forms.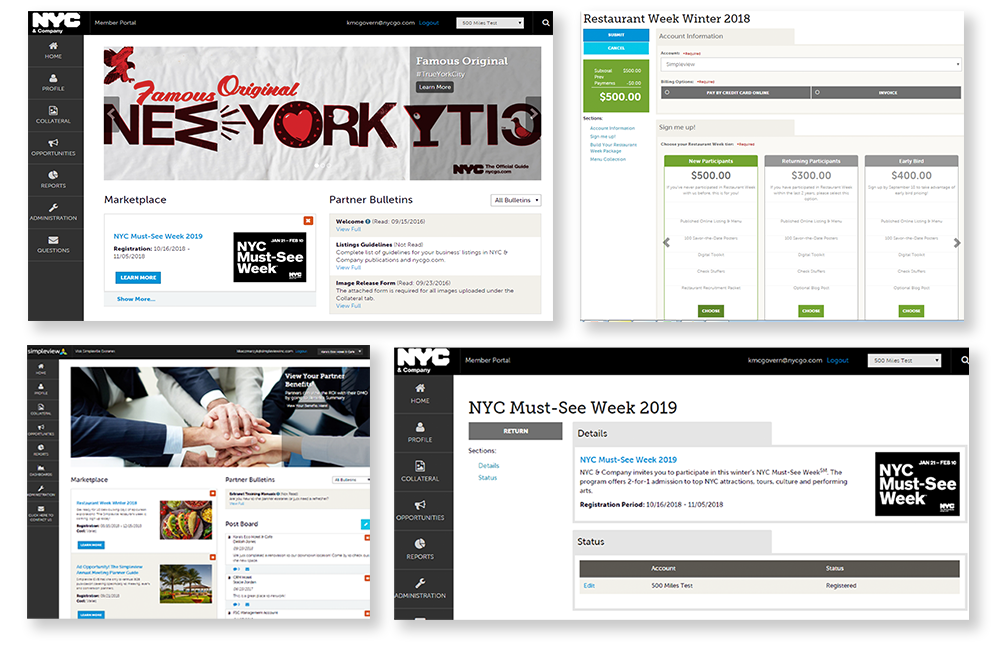 Yet the biggest CRM announcement was snuck in by Ryan at the tail end of the Summit opening session. CRM 4.0 is coming Q1 2018.
---
Extranet 4.0 is here now
244 clients are live in Extranet 4.0
---
Wow.
Just wow. The amount of new information that Ryan and Greg shared at the opening session of Summit 2017 was almost overwhelming, but it was exciting, too. To see and hear about the culmination of a year's worth of hard work by all the Simpleview teams, to witness how DMO and user group feedback turned into highly relevant and time-saving features and services, and to feel the energy in the room around the latest integrations and innovations was a great way to start a new day at the conference. It made my cafe mocha seem mild by comparison, honestly, and amplified the enthusiasm in the room more than the music.
And that client/staff enthusiasm and connection at Summit and beyond? That bureau staffer photographing the Simpleview/Cvent slide at the opening session; the DMO team of eight I met who couldn't wait to take advantage of the CRM pre-conference; the sharing of information between DMOS in the new VisitApps session; the excitement of the Norway staff member ready to present later in the week; the eagerness of a CRM administrator to attend every CRM session possible and give back insight through the user group and multiple interviews; the friendliness of the silent auction competition and awareness of the Tucson beneficiary; the passion behind Dallas' light-up cowboy hats at the Summit closing party ... all of this, plus supporting the greater initiatives of the travel and tourism industry invaluable, dependable ways for well over a decade ... this is why we do what we do at Simpleview, if you ask me. From Summit to every new development ... we help keep the world connected.
If you'd like more details about some of the big news mentioned above, check out our Summit Reveals blog or visit the client portal to view Summit presentations.