Tucson, February 3, 2012 - The Greater St. Charles Convention and Visitors Bureau launched the new historicstcharles.com last week after receiving a website makeover from Simpleview.
Immersed in the Deep South, St. Charles is nestled next to the mighty Missouri River and is chock-full of history and culture. St. Charles was first established in 1769 by a fur trader and later served as the departing point for Lewis and Clark on their adventure west. Today, St. Charles's is a friendly community dedicated to preserving its historical past. 
 
The new site highlights St.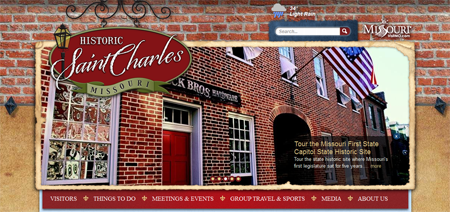 Charles's historical beginnings and quaint elegance with images from the area seen at the top of nearly every page. The new design features an aged background with a brick border towards the top. Their new media gallery is already full of images from around the area, sure to entice visitors to experience St. Charles's culture and way of life. 
Let St. Charles's take you back to the beginning of United States history at www.historicstcharles.com
| | |
| --- | --- |
|   |   |
|  Before | After |