In a time when many destinations are struggling to maintain their website traffic, one sector of the industry seems to have regained their pre-COVID traffic levels. When we isolate organic search traffic to southeastern U.S. destinations from visitors located in fly markets (more than four hours driving from each destination), we actually see year-over-year growth.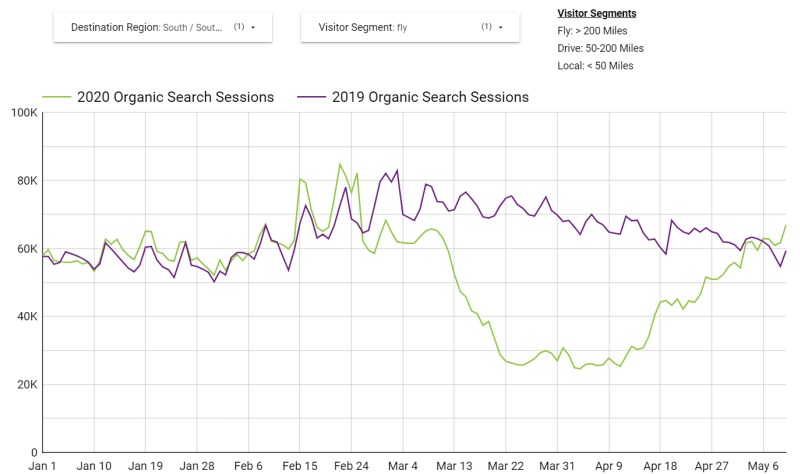 Given that web traffic was down nearly 70% at one point during the shutdown, you can imagine how excited our digital marketing team was to see this.
Now when we dig in, we find that one destination in particular has had a huge impact thanks to an anomalous and unreplicable pop-culture event. But even if we take that destination out, things are looking good: since the last bottom of 2020 traffic for this segment on April 11, the rise has been strong and steady, with year-over-year losses down to the 2% - 3% range over the weekend of May 10-11. That may not sound amazing, but look at the size of the drop. It's wonderful in this context.
So what trends are pulling this region back to something like normal organic search traffic levels? Well, you've probably heard that some states are looking to open their economies back up, and the south led the way with those announcements. Accordingly, we've seen a huge amount of traffic directed to the COVID-19 information pages for these destinations. While users are not necessarily searching for "coronavirus" (that's the popular search term, by the way) more than they were a month ago, they're definitely clicking through to DMO sites more often. Here's an example from one anonymous southern destination, with clicks and click-through-rate for all keywords containing "coronavirus."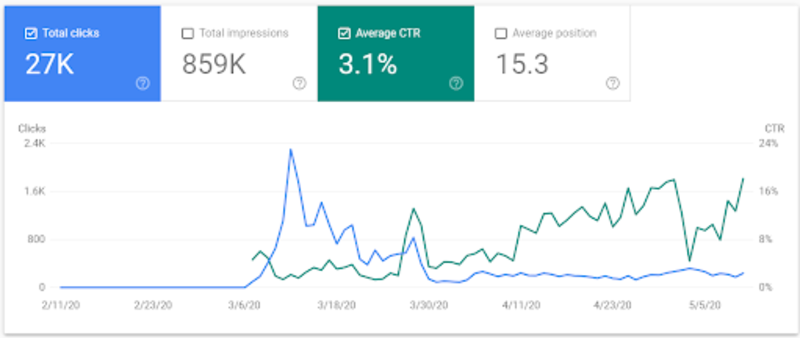 Improved rankings account for part of the big CTR jump, so thanks to Google for recognizing the work our industry is doing to inform travelers and residents. What do Google and users like to see on these landing pages? We find a few common factors when we review them:
Accurate, up-to-date information
A focus on tourism and hospitality businesses, events and attractions
Additional resources driving users to explore further, such as social-distancing-friendly activities or post-shutdown itinerary ideas
We've also seen an increased demand for live beach webcams, as people turn to technology to help them deal with the monotony of state-wide lockdowns. When reality disappoints, there's nothing like fantasy.