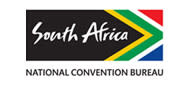 Chris George and I traveled to Johannesburg, South Africa in August for Client Relations Management (CRM) system training with the South African National Convention Bureau team. Our week in South Africa holds some of the most amazing experiences we've had in our lifetimes. From meeting the incredible staff at the five convention bureaus, to being up close with African wildlife, to our hosts showing us true South African hospitality and making our trip to South Africa an experience to remember.
Meeting the South African Team
The team at South African Tourism is charged with the mighty undertaking of building a national bureau to oversee the five existing regional bureaus. South African Tourism coordinated the two-day onsite training with staff from all five bureaus - Cape Town, Durban KwaZulu-Natal, Johannesburg, Gauteng and Tshwane were all in attendance!
Everyone was such a pleasure to work with and I especially enjoyed learning how each bureau operates. Each team was ready to discuss and learn how their existing processes translate and work with their Simpleview CRM system. After the training was complete, we gathered to take a picture of the group. It was difficult to fit everyone in the picture, but we managed!
What a great bunch of people! Thanks go out to everyone that attended for making the trek to Sandton and spending two days of training with us. We thoroughly enjoyed meeting each of you.
Wandering Around South Africa and Earthly Beginnings
We drove around the countryside and through cities, taking in much of the gorgeous landscape between Johannesburg and Pretoria. Below are some pictures of Pretoria, one of three capital cities in South Africa.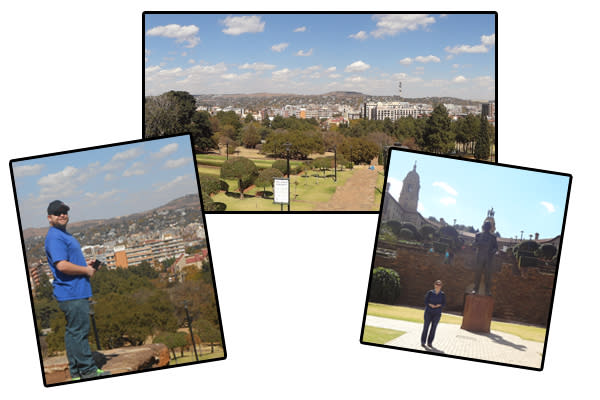 Then we headed down to Johannesburg to drive around downtown.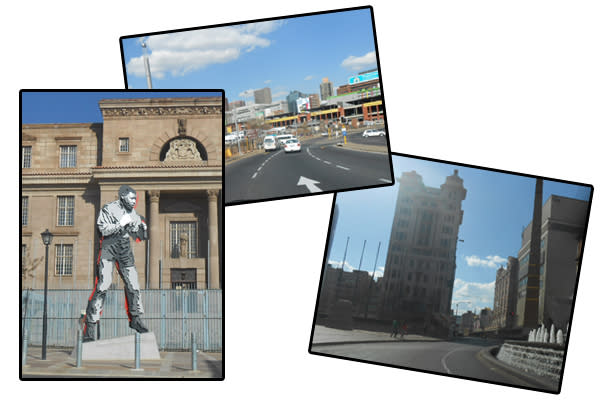 Wandering north again, we decided to look for the Cradle of Humankind, which is where the oldest hominids were found. We drove around for an hour looking for it, when we stopped and asked a polite stranger for directions. He told us, "That is 290 square kilometers of land. If you are looking for the visitors' center, it is called Maropeng and it is right up the road". Of course!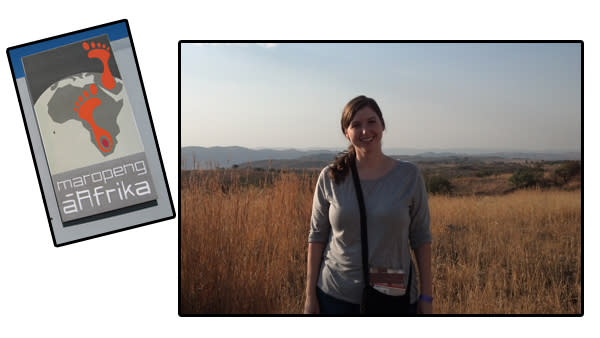 The Maropeng visitors' center was great! It had information about the skeletal remains found in this area and a staged production of the formation of earth. The boat ride through an ice age to a volcanic explosion was fun!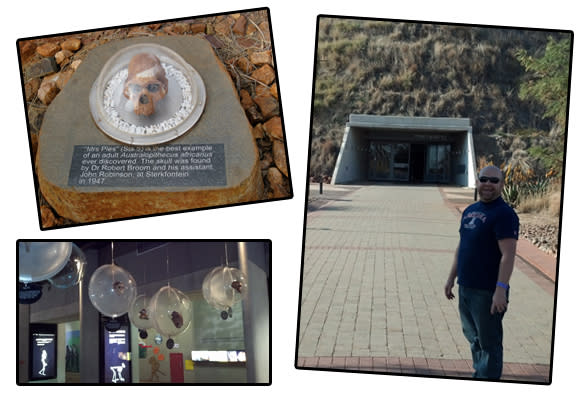 South African food has diverse influences from within Africa, as well as the Netherlands, India, and Portugal. Before heading out to find real South African fare, we consulted the bureau's website and found recommendations for a few different restaurants.
We chose Zemara in Pretoria and it was a perfect first time experience! We ate antelope and goat in a spicy sauce, served with mieliepap (similar to polenta), sautéed spinach and cassava leaves, as well as boerewors (handmade sausages) and fried plantains. Our host was gracious as he explained each portion of the meal to us. Each was full of flavor and cooked perfectly, our picture does not do it justice!
In Sandton, we visited Nelson Mandela Square and sipped on famed Cape Town wine, tasted sautéed pumpkin, butternut squash with currants, and timidly tried the spicy peri-peri (African bird's eye chili) pepper sauce which has a deep, rich flavor to compliment the heat.
Just one bite of the traditional South African/Cape Dutch dessert, Malva Pudding , and I was hooked. You cannot go wrong with a soft, sweet cake with a caramelized crust served hot with either custard or cream. Yum!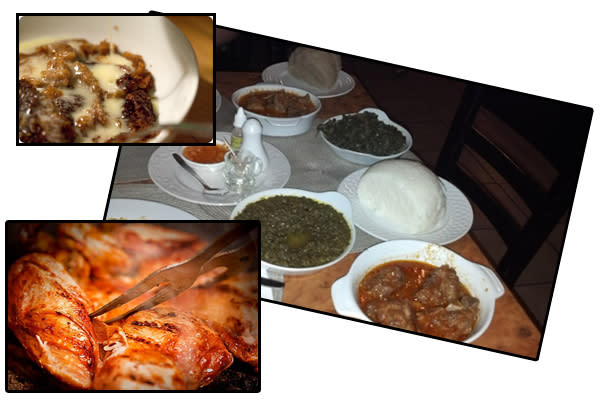 African Wildlife - The Big Five
A preface is necessary here - I'm not a daredevil and Chris is. I am more of a rule-following park visitor when it comes to having just a windshield between me and a deadly animal. Chris is more of a "windows are made to be rolled down in the lion enclosure" kind of park visitor. So visiting the Lion Park and the Rhino and Lion Reserve was an experience for us both.

South Africa is home to some of the most amazing wildlife on the planet, including the "Big Five" which are the lion, African elephant, rhinoceros, leopard and Cape buffalo. We visited three of the five and seeing these majestic animals outside of a glass enclosure was definitely a once-in-a-lifetime experience.

The Lion Park
At the Lion Park, we drove ourselves through several different lion pride enclosures, as well as stopped to snuggle with lion cubs. We also saw springbok, wildebeests and zebras grazing, pet a giraffe, and had a one-on-one walking session with a cheetah.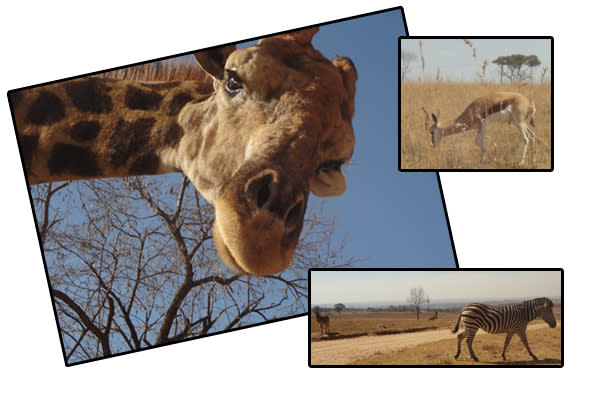 The Lion Cubs
Chris and I loved the lion cubs. It's not often one gets to sit down and snuggle a small lion, even if they were sleepy!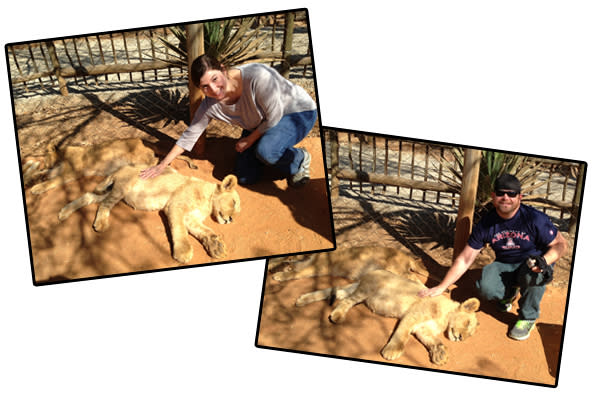 Lion Prides
This is the time when Chris' window was down while twelve lions began to surround the car... it quickly went back up! It was more than a little terrifying to watch them move around the car and have their faces so close to ours.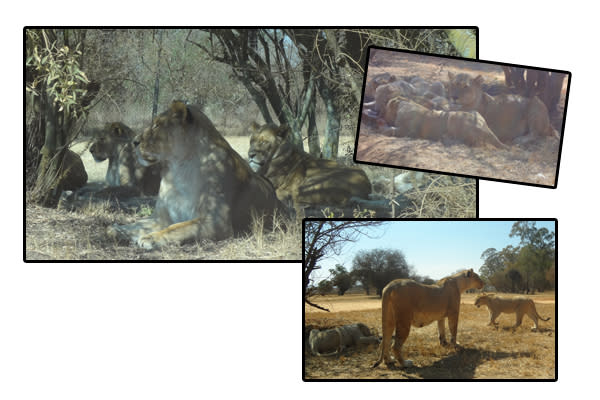 The Rhino and Lion Park
We were fortunate enough to see a pack of rhinos at the Rhino and Lion Park, including a mama rhino walking with her baby.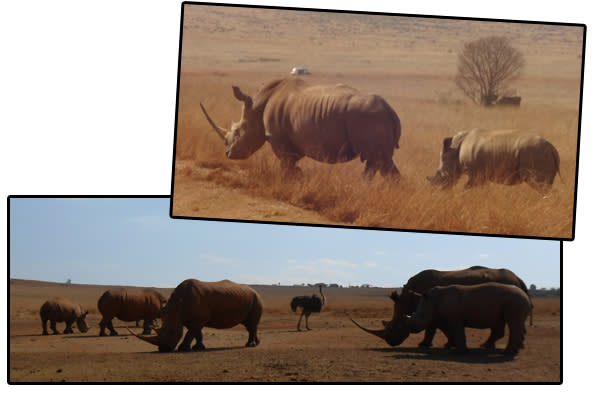 I actually rolled my window down at this point. Rhinos are not going to eat you, right? You are either smashed or you're not. A rhino turned toward us at one point, snorted and stomped as if to say "Take a hike!" Of course, at that moment, my mind played out the scene of the rhino charging and spearing his horn through the car, making us a Volkswagen shish kabob. Chris moved the car quickly!
Felix the Cheetah
As we boarded the bus for the cheetah enclosure at the Lion Park, Chris was giddy and I was a nervous wreck. When we arrived, I assumed we were all getting out and going for a walk. Nope. Instead the ranger put Felix inside the bus with us. Inside the bus. In my world, this is insanity and in Chris' world, this is the best day ever.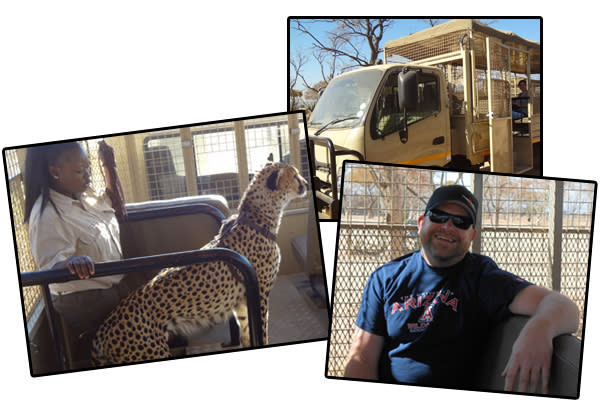 Chris was in love with this experience, he couldn't get enough time near Felix. Chris snuggled Felix like a kitten, while I managed to pet him at arm's length.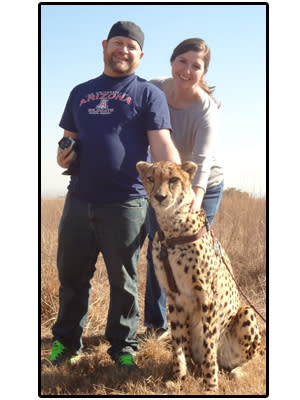 After we dropped Felix off at his enclosure and relaxed a little, I thanked Chris for encouraging me to try this experience. It was amazing! They are even going to make a couple of movies about it.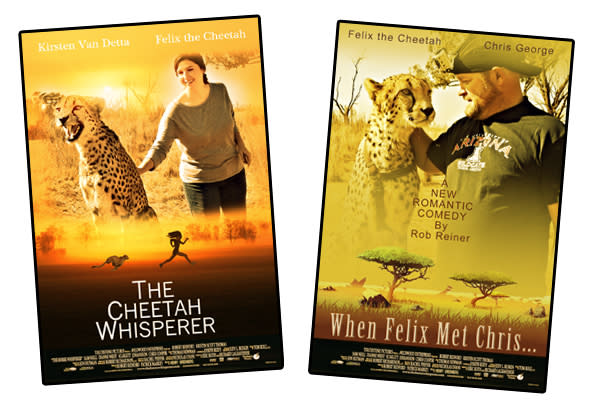 We took hundreds of pictures and videos, but came home with more than just memories. We came home inspired and in awe of this beautiful country and its people. Thank you for the wonderful experience and we love you, South Africa!