The CMS team has been very busy this year. In fact, this spring we were able to notch 23 launches in just 20 weeks, including terrific partnerships with destinations like Quintana Roo (our first Mexican site launch!), Wild Horse Pass, Destin-Fort Walton Beach, The Fresno Convention Center and Visit Bellevue. We also supported the creation of To Go Toronto's website, a fast-turnaround effort that helped the destination continue to support their local partners and the broader community by serving up all the latest listings for take-out and delivery. 
 
It's a true pleasure to be able to share the news of all those destinations and ultimately, we couldn't do it without the support of our team. On that note, it's time to say hello to some new members of the team who will help us shepherd in our next phase of work. Without further ado, here they are!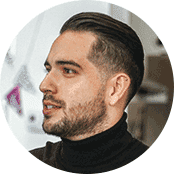 David Palazuelos
Associate Project Manager, CMS Work Orders
Dream Destination: Nepal

James Mead
Associate Support Manager, CMS Support
Dream Destination: Egypt
 

Taarna Davis
Associate Project Manager, CMS Production
Dream Destination: Austria and Germany!

Jessica Lang
Associate Project Manager, CMS Production
Dream Destination: Santorini

Maci Villavicencio
Project Manager, CMS Production 
Dream Destination: San Sebastian

Peter Illetschko
Project Manager, CMS Production
Dream Destination: Africa

Tim McGowen
Jr. Developer, CMS Production
Dream Destination: The ruins of old castles

Kristian Gonzalez
Developer, CMS Production
Dream Destination: Jerusalem