Simpleview puts their hashtag where their mouth is with a UGC-promoted homemade meal contest.
Simpleview's family is full of smart workers and creative innovators, so it's no wonder that we know how to get artistic when it comes to promoting work/life balance, employee health and wellness, and our partners' innovations? [I'm gonna go with "nope."]
Our latest creative endeavor? Using Simpleview user-generated content widgets and feeds to promote our in-house healthy chefs with a fun foodie contest. The gist was this: Simpleview employees simply had to snap a photo of any healthy homemade meal and post it to their Instagram or Twitter account using the #svfoodie17 hashtag. (If they didn't have Twitter or Insta, they could upload photos via a Simpleview website form from any device). Each post earned an entry in a final prize drawing on October 31 for two kitchenware treats. A third prize winner was determined by employee votes for their favorite photographed meal.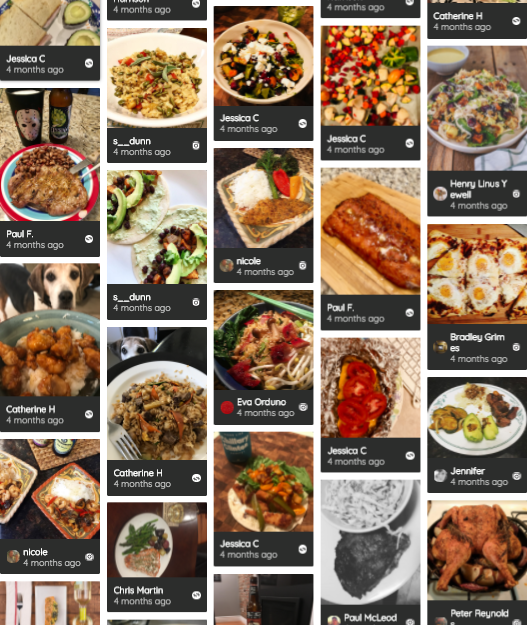 Participants could post up to 90 meals during the contest dates of September 18 through October 27, 2017. Pictures needed to be of home-cooked meals (non-processed foods) prepared the same day or night before.
In total, 36 staff members submitted 223 entries guaranteed to make your mouth water. Paul McLeod, Director of Business Intelligence, and Jessica Castillo, Creative Marketing Strategist, tied for the most entries, at 29 each. Paul described his almost unexpected enthusiasm for the experience and the ease of the process:
"I can't always go out of my way for contests like these, but I didn't have to in this case, since I cook most of my lunches and dinners from near-scratch anyway. On top of that Simpleview offered a couple of not just good but great prizes; it seemed actively antisocial not to participate.
Possibly I still would've been too lazy to submit entries, because anything that takes more than like three taps and fifteen seconds becomes a crushing psychic burden before long, but that part was so easy it would've been an admission of personal inadequacy to let it stop me. I already had an Instagram account and I was happy enough for my friends and family there to see my lunch every day (though one friend asked why he suddenly knew so much about my diet). Adding the #svfoodie17 hashtag was unobtrusive enough that the posts still worked okay for people who had no idea what it was about.
The main challenge, once I got going, was to find ways to keep the posts interesting. With two opportunities to enter every day and my penchant for doing roughly the same lunch for a week straight, it wasn't always obvious how to avoid repetition. But seeing the other entries via the UGC widget helped with inspiration for lighting and angles. Coming up with creative twists on those was enough to assuage my terror of becoming too basic.
In the end, I got a great set of cookware and a long list of coworkers who know what's up with food. I hope Simpleview got the team community and health it was after, but if not, I'll console myself with a beautifully seared tuna steak."
At the end of the challenge, three lucky chefs won some exciting prizes for their kitchens. Paul McLeod and Catherine Herlocker, DTN Account Executive, won a Viking Professional 5-Ply 7-Piece cookware set and Breville Juice Fountain Duo MCI Disc Juicer, respectively. Travis Yewell, Interactive Designer, won by most votes on the challenge page (18), and took home a Hamilton Beach 5.5 Quart Digital Steamer. His dog Henry, seen licking the plate in many of Travis' submitted photos, will be thrilled.
Surely we can soon expect an office potluck catered by all of our exuberant entrants? It would complete the conversion process by taking site/contest viewers from inspiration to experience immersion, something Simpleview UGC does for DMOs every day. Just throwin' that idea out there. :)