To engage travelers and encourage them to visit their destinations, DMOs are now using Get Smart Content's dynamic content to provide content that's most relevant to the traveler's needs.
To deliver dynamic content, Simpleview has teamed up with Get Smart Content and both teams are excited to help you succeed. Using Get Smart Content to reach their different markets, DMOs have seen some impressive results!
New Orleans saw a 400% increase in Visitors Guide Requests for website visitors who received messages and calls-to-action specifically for out-of-state travelers.
Click-through-rates on Visit San Antonio's website increased 68% after geo-targeted content was implemented.
Not sure how dynamic content would work best for your site? Let's start by taking a look at your different geographic segments.
Dynamic Content Helps Reach All of Your Geographic Segments
Each and every person that visits your travel destination's website can be grouped into three different geographic segments:
1. In-Market: Those living or currently located within your city or destination.
2. Drive-Market: Visitors living within 180 miles of your destination.
3. Out-of-Market: Visitors living further than 180 miles away from your destination, often out of state.
Providing different calls-to-action to each group helps connect your visitor with the most appropriate and relevant information they need to plan their trip, as travel needs and familiarity with your destination often differ based where that traveler is currently located.
What type of content and calls-to-action are most relevant for each of these segments?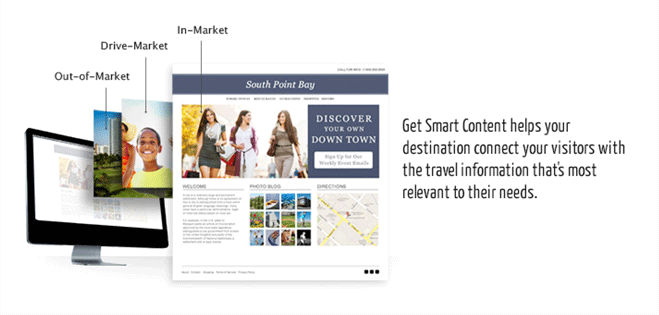 In-Market
Enable travelers who have already arrived at your destination to easily navigate your city. Link to mobile attraction maps or connect them to your virtual visitor center.
Relevant Calls-to-Action: Download Our Summer Coupon Book or Click Here to for your Free City Map.
Drive-Market
Suggest a quick weekend getaway. Provide discounted last-minute hotel rates to encourage a weekend trip.
Relevant Calls-to-Action: Sign Up for Our Monthly Event Emails, Download Our Summer Coupon Book, Discount Hotel Rates for Weekend Getaways Available.
Out-of-Market
Provide foreign language specific content if you find you have a large international population visiting your destination.
Family travelers are often looking for a destination with a direct flight from their hometown. Let them know that a trip to your city is easy.
Relevant Calls-to-Action: Download a Foreign Language Visitors Guide, Request a Visitors Guide, Non-stop Flights from Your City Available - An Easy Family Vacation Destination.
As you begin segmenting your website audience, you may identify some additional calls-to-action that are relevant to your visitors. By continuing to test and optimize these calls-to-action, you can be sure that your visitors are finding the information they're looking for.

It's Easy to Get Started
Talk to your Simpleview Account Manager today for more information on how easy it is to add Get Smart Content's dynamic content targeting tool to your site.