Tucson, September 14, 2011 - Last month, the Destination Lancaster, California new website, DestinationLancasterCA.org, joined the list of Simpleview website clients.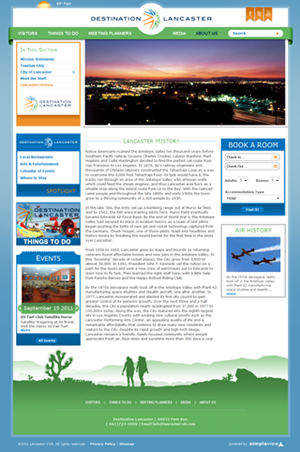 In the heart of the Antelope Valley lies the City of Lancaster, a historic town built in the 1800's which has evolved from a small farming community into a growing metropolis. Rich in history and outdoor recreational destinations with small-town charm, Lancaster is a combination of the best a city has to offer.  Home to some of the greatest achievements in aviation technology, this just-launched website is a reflection of the City's urban setting mixed with their cultural heritage.
Built on Simpleview's CMS, Destination Lancaster includes integrations with Google Maps and the Kayak booking engine for online reservations.
Features of the Destination Lancaster site include a press and media center, special offers and coupons, as well as a media gallery featuring photos and soon-to-be-added videos from throughout Lancaster. The homepage includes a rotating slideshow highlighting the many activities available in the area and a calendar of events to help you better plan your stay.
You can see the newly developed Destination Lancaster website at:  www.destinationlancasterca.org