We are excited to bring you our latest Digital Marketing Webinar...filmed at the Google Studios!
 
The magic behind the cameras...
Recently, Grant Stoltz and I had the pleasure of being invited by the Google Agency Partners team to come to the "mothership" in Mountain View, CA and film a webinar at their studio. Being a Google Premier Partner affords our team the opportunity to do these types of things from time to time, and to say we were excited (any nerd would be) would be an understatement. 
Two reasons for this excitement:
It's Google!!!
We had a chance to take to the big stage the message that we've been advocating for the better part of two years: DMOs need to start thinking beyond the click. We believe in this so much that we restructured our entire department last year to prepare ourselves for this shift in the landscape, and even developed our own digital marketing framework to help DMOs along the way. 
When we arrived at Google's Quad Campus (one of many) in Mountain View, we met with Jenny Lamb, Agency Development Manager, our representative on the agency team. We had a couple of hours to burn before the shoot, so our gracious host gave us a tour. We have built a great relationship with Jenny over the years and she has even been out to the Simpleview offices on several occasions to assist with trainings, product and industry updates, and more. Any of our clients that have visited our own Simpleview offices in Tucson know that it is an incredibly dynamic and fun environment. That said, Google's office is just a tad bit cooler than Simpleview's (sorry Ryan). 
On the list of Google's awesome amenities: 
They have a pool onsite in case you need to do some laps while at work. Seriously. I mean who doesn't need to do laps in between meetings, right? 
Medical staff and massages
Hair cuts, golf simulators … and the list goes on and on. 
Anything they need is right at their fingertips! Hard work definitely has its rewards.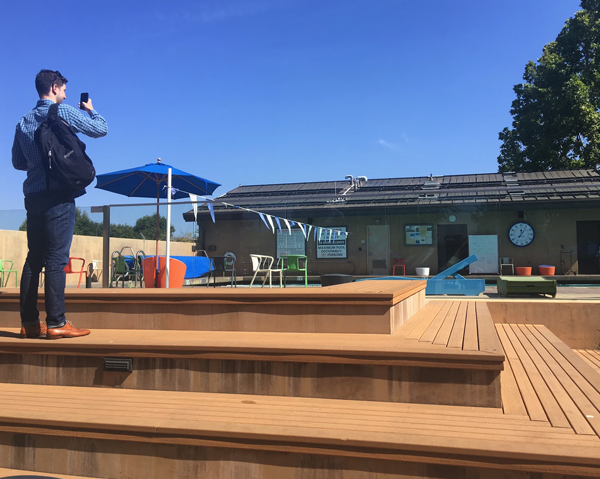 After working hard by the pool, we needed to refuel and went in search of sustenance, which is not hard to find while on the property. In fact, it seemed that each building we visited had a huge selection of incredible food items. They know that well-fed employees are happy employees, which is a sentiment shared by everyone here at Simpleview as well! Google's onsite dining options are the stuff of legend, including everything from full juice bars to snacks and even chef-prepared meals. Oh, and did I mention that it's all free, as well? Just grab what you want. Now, if you're the type of person looking for junk food, which I've been known to do from time to time (just ask Samantha Keithly), unfortunately you won't find it here. An impressive feat by Google is that most every food option was a healthy one. Kudos to you, Google!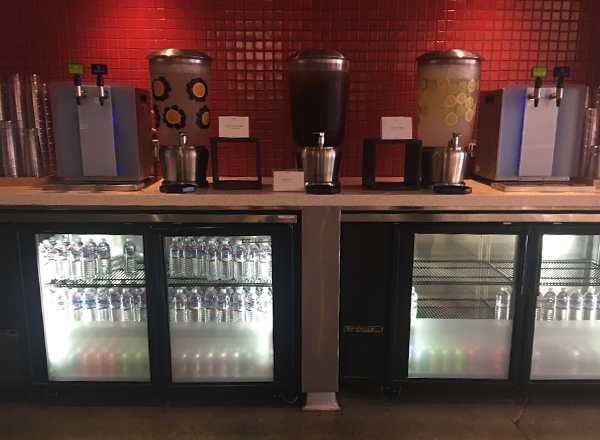 After a delicious and filling lunch, Grant and I were off to the shoot. We met with the production team and got things set up and ready for the webinar. Although our webinar was about 30 minutes in length, we spent a solid three hours in the studio to make sure everything was absolutely right. The team was incredibly professional, detailed, and prepared. I'm thinking they've done this before. Big props go out to Margot, David, and the entire Google production team. A very impressive and masterfully accomplished coordination job on their part!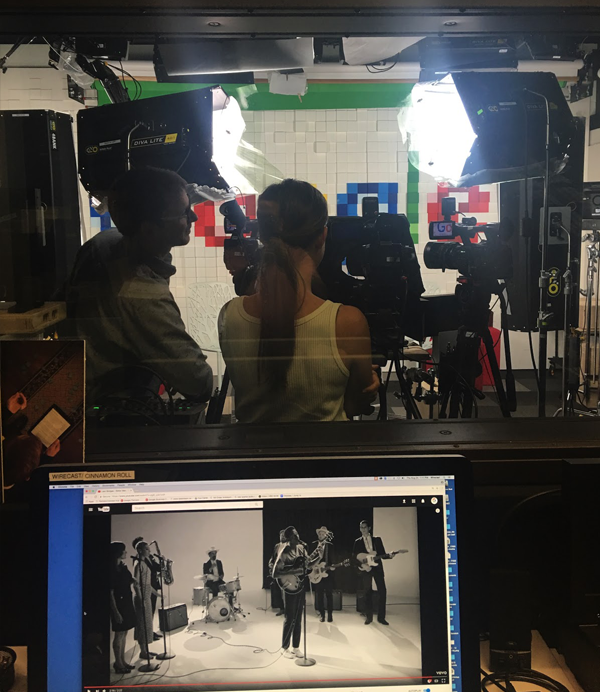 Most people in the marketing industry know that filming at Google is a big deal, and I felt it especially deeply when I stepped into the studios. I say that because I've seen this studio in countless Google webinars that have been given over the years by people I look up to and follow in the marketing world. For Grant and I to have the opportunity to shoot one of our own there was nothing short of awesome, to say the least.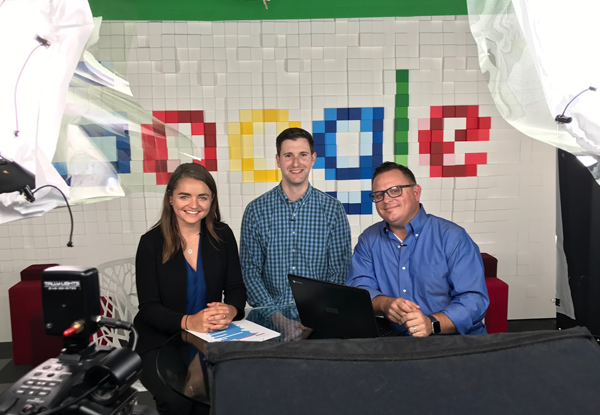 After the shoot, we took the Google "G bikes" back to Jenny's office to finalize a few things and catch a ride over to GooglePlex, their main headquarters.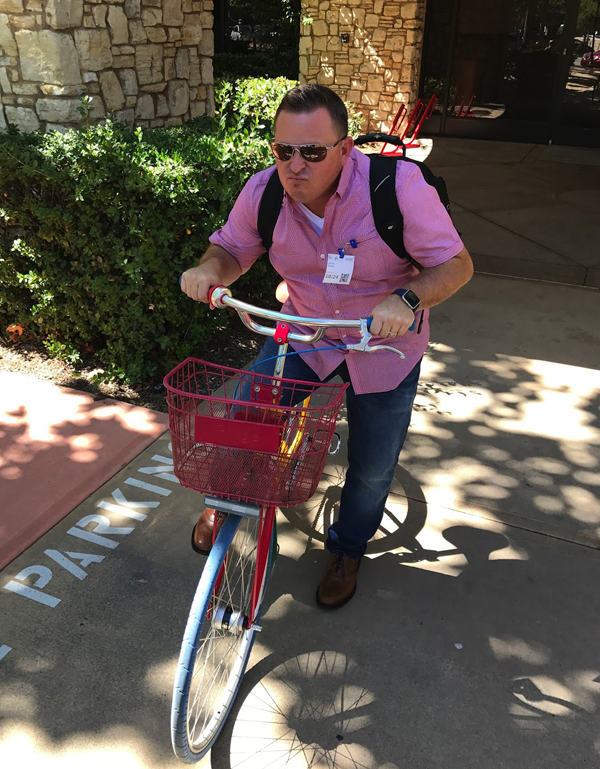 The campus is so big that the G bikes are provided everywhere to ensure you make it to your meetings and appointments on time. Once you arrive, you just leave the bikes at your destination for someone else to use. Pretty cool concept, and a fun and healthy way for folks to efficiently get around this huge campus. More importantly, it gets you out and moving around, which, if you're normally on a computer all day, is a very welcome change!
Grant and I wrapped our day with an interest-piquing tour of the main office, which is pretty securely locked down, as you can imagine. After a couple photo-ops, our whirlwind day at Google came to a close. We had such a great time and look forward to the opportunity to do it again soon. Thanks again to Jenny and the entire team at Google!